Where To Go This Weekend: Enumclaw, Washington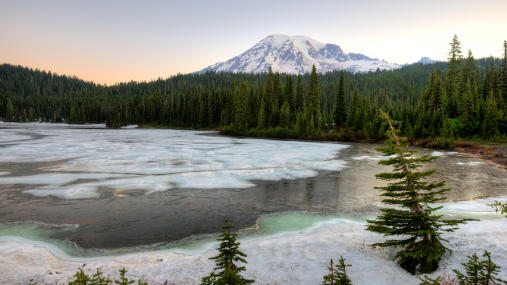 Small-town charm meets big-mountain beauty in Enumclaw, Washington, a friendly, rural community 45 miles southeast of Seattle and 30 mi...
Small-town charm meets big-mountain beauty in Enumclaw, Washington, a friendly, rural community 45 miles southeast of Seattle and 30 miles east of Tacoma. As local Eric Brandjes, owner of Cole Street Brewery, told us: "Enumclaw may come across as a cow town if you're just passing through, but it's much more diverse and sophisticated after a closer look."
Right now, nearby Crystal Mountain Resort—Washington's biggest ski area—pulls in powder hounds from across the state, and Enumclaw buzzes with energy. Seattle-based writer Heather Hansman gave us a cheat sheet for experiencing the best the town has to offer. Here below, our five can't-miss experiences in Enumclaw.
1. Road-trip delightsEnumclaw sits on the boundary between field-checkered farmland and the mountains of Mt. Rainier National Park. You can get a taste of its agricultural side on the way into town, starting at Tracy's Roadside Produce (23110 S.E. 436th St.), where you'll find fresh fare—squash, apples, and greens—even in February. In addition to produce from its farm and neighboring ones, Tracy's stocks local honey, jams, and pickles, along with Washington wine and beer. Down the road, Olson's Meats and Smokehouse (20103 S.E. 436th St.) sells double-smoked bacon, cheese, salmon, and elk and buffalo sausage.
2. High bitesThe mountains of the Cascade Range start to pitch up steeply east of town, and 40 miles southeast, you'll find Crystal Mountain Resort (33914 Crystal Mountain Blvd.). It has 2,600 acres of skiing—with 54 percent of its runs suitable for intermediates—and receives nearly 500 inches of snow a year. Even if you're not a skier, you can still ride the gondola (tickets $22) to the peak for wide-ranging views of Mt. Rainier and the North Cascades. Summit House, the restaurant at the top, prepares dishes like chili made from Washington beef—a big step up from the standard burgers found on most ski-resort menus.
3. Literary buzzEnumclaw is free of chain stores, so there are plenty of one-off boutiques to explore in the walkable downtown. Residents tend to gather at The Sequel Used Books and Espresso (1456 Cole St.), where you could spend days perusing the ceiling-high stacks, but the most interesting section is the deep stash of Northwest guidebooks. If you want to read up on picnic spots in Washington, for instance, or haunted hikes along the Columbia River, the options are plentiful. The sunny, attached coffee shop serves Italian Bristot Coffee and local Mad Hat teas.
4. Heavenly piesEnumclaw, which celebrated its centennial in 2013, was founded as a logging town, and even today, it's a hearty meat-and-potatoes kind of place. Restaurants like The Kitchen, The Kettle, and Charlie's Cafe serve huge portions of steak and eggs, burgers, and ribs. The best known (and arguably best) of the bunch is The Pie Goddess (1100 Griffin Ave.), which anchors the quiet corner of Griffin Avenue and Railroad Street. Peanut Butterfinger is the most popular sweet pie, but they have nearly 50 varieties, ranging from seasonal fruits, like peach pecan crunch, to meaty shepherd's pie, which is perfect for a post-ski dinner. People drive in from Seattle to pick them up. The Pie Goddess herself, Suzie Sidhu, who has been baking pies for almost 30 years, says her secret is not to mess with the crust too much: Roll it once and don't touch it.
5. Brews and viewsEric Brandjes experimented with homebrewing for more than 20 years before introducing his beers to the public. In 2013, he opened Enumclaw's first craft operation, called Cole Street Brewery (2551 Cole St.), and it quickly became a mainstay. The light-filled brewery is BYO food and has eight beers on tap. From its deck, you get an unobstructed view of Mt. Rainier. In addition, Brandjes creates seasonal specialties, such as a vanilla-oat brown, for area restaurants like The Mint, and his beer is on tap at Chalet Theatre, Enumclaw's movie house. Brandjes says his Overlander IPA—a hoppy, Northwest-style India pale ale—is the most popular, while the Cascadian Rye has a cult following. "I don't hear the end of it if it goes off tap," he says.
Keep Reading: