Thanksgiving Potluck: Sweet Potato Gratin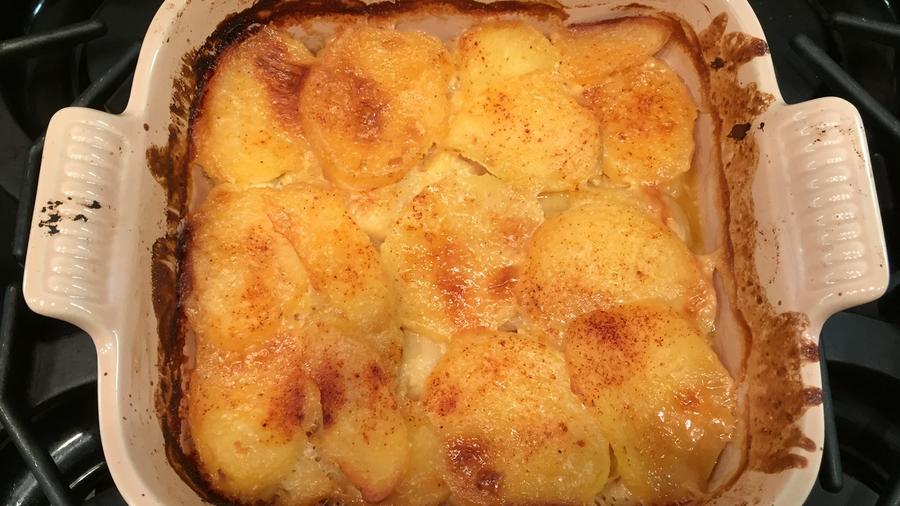 This month, we're cooking our way through Deborah Madison's freshly revised New Vegetarian Cooking For Everyone. Here, Digital Editions ...
This month, we're cooking our way through Deborah Madison's freshly revised New Vegetarian Cooking For Everyone. Here, Digital Editions managing editor Erika Ehmsen indulges in An Over-the-Top Holiday Sweet Potato Gratin with Red Chile and Cream (yes, that's really the recipe name—and it's fabulous).
My bookmarked and splattered 1997 edition of Madison's original Vegetarian Cooking for Everyone was the first cookbook I put on my new shelves after our recent kitchen remodel—and it was the first cookbook I ever bought … or perhaps the first one I financed, as it was purchased with the last of my student loans.
When Vegetarian Cooking entered my first post-college apartment, I was a vegetarian in need of some schooling on how to cook for myself and make meat-free meals for friends. Beyond Madison's recipes—from how to transform a humble egg into a simple yet satisfying meal with harissa, breadcrumbs, and a tangle of greens to her more hands-on but reliably potluck-awing mole enchiladas—her advice in a chapter titled "Becoming a Cook" coached me to develop a repertoire of a few dishes I could make well and lean on midweek (instead of constantly trying new recipes).
But perhaps Madison's best advice in that chapter is to cook with your intuition and senses, because "cooking is an inexact business … stoves are different, pans conduct heat in different ways, your taste is different from mine." In line with that thinking, Madison's recipes will often list a flavoring ingredient without a specific measure, enabling you to adjust the seasoning to taste. And you're often left to determine doneness without an exact cooking time. All with the goal of making you a more thoughtful and confident cook—because while baking is a delicious but exact science, cooking is delicious and flexible fun.
Since we just invited our family and friends to celebrate Thanksgiving with us in our new addition, I was eager to see what new recipes Madison had added to her new edition. I couldn't resist An Over-the-Top Holiday Sweet Potato Gratin with Red Chile and Cream (longwinded yet precise—hello, soulmate).
Why this recipe? I don't eat turkey, so Thanksgiving for me is all about the sides. Sweet potatoes are a Thanksgiving standard and I have high standards for what I'll be putting on our table, so I was looking for a more elegant sweet potato recipe to replace the marshmallow-topped pan of bright orange mashed "yams" that passes as a family heirloom. Madison's recipe calls for pale-fleshed sweet potatoes and a simple, unadorned (marshmallow-free!) preparation.
What's it like to make? This recipe is so easy, I may put our 8-year-old in charge of making it on Thanksgiving (she gobbled it up when I tested the recipe at home). Just boil the sweet potatoes (no need to scrub or peel them first), let them cool before slipping off their skins (you can even boil them in advance and stick them in the fridge a few days before serving), slice and layer the sweet potatoes in a pan with a bit of salt and ground chile, top with a cup of whipping cream and a sprinkle of paprika and more chile, and pop the pan in the oven.
Be prepared to add cooking time if you're working with chilled sweet potatoes. Go wild with the ground chile if you like heat; ease off if my mother-in-law will be at your table. And don't over-butter your pan or you'll get an oil slick on the gratin's bottom layer.
How did it turn out? Deliciously decadent, as promised. Sugar-free yet naturally sweet and creamy, with a golden crunch on the top layer and edges. Looks like a cheesy potato gratin but hits both sweet and savory notes.
Will I make it again? Absolutely. The recipe's name is almost longer than its ingredients list, but it's dead easy and delicious, two things I'll need in my back pocket as I embark on a few complicated new recipes on Thanksgiving Day.
Here's Madison's recipe for An Over-the-Top Holiday Sweet Potato Gratin with Red Chile and Cream:
4 lbs. sweet potatoes (any variety, but try for a pale-fleshed Japanese variety such as Hanna)
1 tbsp. sea salt
Ground red chile
1 cup cream* or half-and-half
Smoked paprika or powdered chipotle chile
Cover the sweet potatoes with cold water, add the salt, and bring to a boil. Simmer until they are tender but still a little firm, as they will cook again in the oven. (They can be boiled a day or more ahead of time and kept refrigerated.)
Heat the oven to 350°. Lightly butter an 8-cup gratin dish. Peel the potatoes and slice them on the diagonal or lengthwise 1/2 inch thick.
Make a layer of potatoes in the dish, season with salt and a few pinches of the ground red chile. Repeat, making as many layers as you have potatoes for.
Pour the cream over all, sprinkle the top with extra chile and paprika, then bake until the cream is absorbed and the surface is burnished and blistered in places, about 35 minutes.
*Tip: Buy a 1-quart carton of whipping cream so that you'll have some left over for Madison's recipe for crème chantilly—softly whipped cream. A duet of almond and cinnamon whipped creams will elevate any Thanksgiving pie—even that mondo pumpkin one that I'm sure my dad will bring from Costco.
Keep Reading: