Phoenix's cutting-edge gardens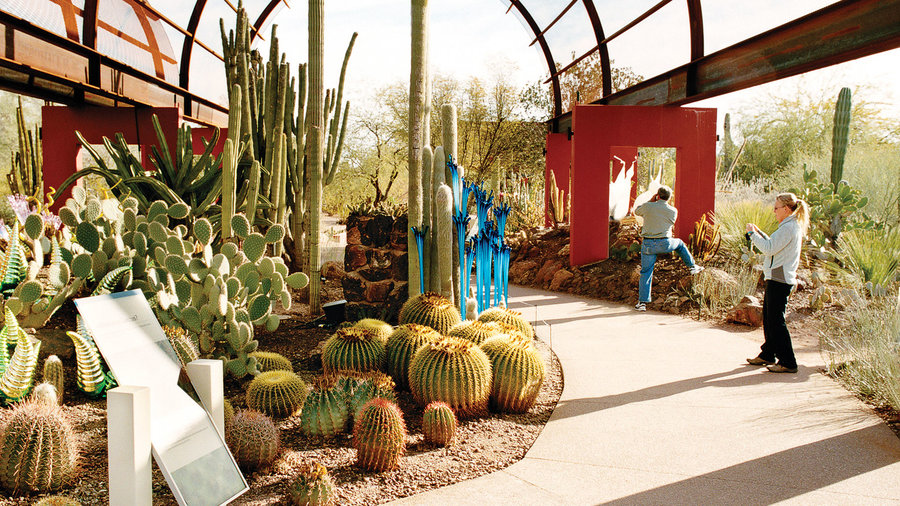 Step into our favorite spots for nature lovers in the outdoor gardens of Phoenix.
Why go in spring: Explore Phoenix's cutting-edge gardens and open spaces before summer heat sends you indoors.
Dress code: Pearl-button cowboy shirt, jeans, and sunglasses.
22 feet: The height of the tallest cactus in the Cactus and Succulent Galleries at the Desert Botanical Garden.
Rakish find: Pick up a stylish collapsible rake at Southwest Gardener (2809 N. 15th Ave.; 877/315-9301).
Bragging rights: Pizzeria Bianco ($; closed Sun; 623 E. Adams St.; pizzeriabianco.com), where locals line up for wood-fired pizzas topped with house-smoked mozzarella.
Best places for nature lovers: The Rio Salado Habitat Restoration Area (free; Central Ave. just south of I-17; phoenix.gov/riosalado), a 5-mile stretch of wetlands along the Salt River bed. Once a dump site, it's now home to hundreds of bird species. Also: The habitat's eco-friendly Audubon Center (az.audubon.org/center_riosalado.html).
MORE GREEN PHOENIX STOPS
Waterworks at Arizona Falls
Sit on large boulders and watch as sheets of water flow overhead to power a hydroelectric plant in this creative park designed by artists Mags Harries and Lajos Héder. Free; in G.R. Herberger Park, 56th St. at Indian School Rd.; srpnet.com/water/canals/azfalls.aspx
Baker International Nursery
Browse this beloved Phoenix institution for hard-to-find plants; the nursery's rose and citrus stock is particularly diverse. 3414 N. 40th St.; 602/955-4500.
True food kitchen
It's easy to eat green at this sunny, airy restaurant―alternative medicine guru Dr. Andrew Weil helped create the healthy-but-sophisticated menu. Sip organic Sauvignon Blanc and try the miso-glazed black cod or green tea soba noodles with peas, bok choy, and lemongrass. $$; in Bittmore Fashion Park, 2502 E. Camelback Rd., Ste. 135; 602/774-3488.
Take it home
Rose Ann and Nick Colamartini have been avid recyclers for decades, and their rambling furniture and accessories shop, Urban Southwest, is stuffed with rustic dining tables made from old roof decking, candelabra crafted from scrap metal, and chairs formed from waste palm wood. Too big for a suitcase? They ship. Closed Sun; 1016 E. Camelback Rd.; urbansouthwest.com
Next: More things to do in Phoenix, AZ