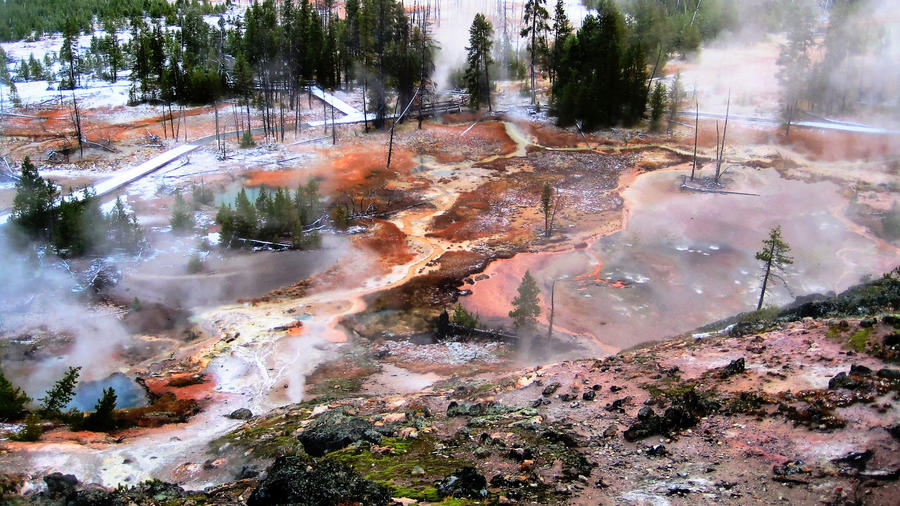 Courtesy of Russell Harrison
Geysers, mountain peaks, meadows, and lake overlooks―our favorite hikes are suitable for all levels
Two Ribbons Trail. Boardwalk trail winds through lodge-pole pine forest recovering from the 1988 fires. Trailhead: 5 miles east of the West Entrance. Distance: 1.5 miles round-trip. Difficulty: easy.
Observation Point. From near Old Faithful geyser, trail leads up 200 feet for a commanding view of the Upper Geyser Basin. Trailhead: Firehole River footbridge behind Old Faithful Geyser. Distance: 1 mile round-trip. Difficulty: easy.
The Beaver Ponds Loop Trail. Near Mammoth Hot Springs, trail heads up Clematis Gulch to lead to the ponds and some great views of this part of the park. Trailhead: near stone Judge's House. Distance: 6-mile loop. Difficulty: Moderate.
Artist Paint Pots. Trail winds across meadow and encircles colorful hot springs and mud pots. Trailhead: 4.5 miles south of Norris on the Norris-Madison road. Distance: 1 mile round-trip. Difficulty: easy.
Mallard Lake. The Trailhead is on the Southeast side of the Old Faithful Lodge cabins, near the Firehole River. Take the first right turn as you come into the Lodge area and continue down the road to the trailhead. The trail crosses the Firehole River, passes Pipeline Hot Springs, and climbs rolling hills of partially-burned lodgepole pine and open, rocky areas to the lake. Return the same way.
Difficulty: moderately strenuous
Purple Mountain. This 6-mile trail ascends through intermittent burned lodgepole pine forest and ends with a nice view of the Firehole Valley and lower Gibbon Valley; some views of the Madison Junction area are also visible. Close to Madison Campground.
Difficulty: Moderate with steady climb of 1,500 feet
Natural Bridge. The natural bridge is a 51 foot (18 m) cliff of rhyolite rock cut through by Bridge Creek. The hiking trail meanders through the forest for 1⁄4 mile (0.8 km). It then joins a service road and continues to the right (west) for 1 mile (1.5 km) to the Natural Bridge. The short but steep switchback trail to the top of the bridge starts in front of the interpretive exhibit. Above the natural bridge, the trail crosses the creek through a narrow ravine and then continues along the cliff before rejoining the road. The bike trail to the bridge begins just south of the marina off the main road.
Difficulty: easy
Yellowstone Lake Overlook. This 2-mile trail starts on the right as you enter the West Thumb Geyser Basin parking area. The trail will take you to a high mountain meadow for a striking view of the West Thumb of Yellowstone Lake and the beautiful distant Absaroka Mountains. From that point the trail ascends steeply passing thermal features before it starts a gradual descent back through meadows and forests.
Difficulty: moderate to strenuous
Lone Star Geyser Basin. This backcountry geyser basin is easily reached by a 5-mile roundtrip hike from the trailhead south of Old Faithful. Lone Star Geyser erupts about every three hours.
Sepulcher Mountain Trail. Located near Mammoth, offers a strenuous 11 mile loop trail. This trail follows the Beaver Ponds Trail to the Sepulcher Mountain Trail junction. The trail than rises 3,400 feet through pine trees and open meadows until the 9,652 foot summit of Sepulcher is reached. To complete the loop, continue along the opposite side of the mountain through a broad open slope to the junction of the Snow Pass Trail. Continue down until you reach the junction with the Howard Eaton Trail. This will lead you west of the Mammoth Terraces and back to your original trailhead.
Difficulty: strenuous