President Roosevelt's "Floating White House": SF Bay's top cruise?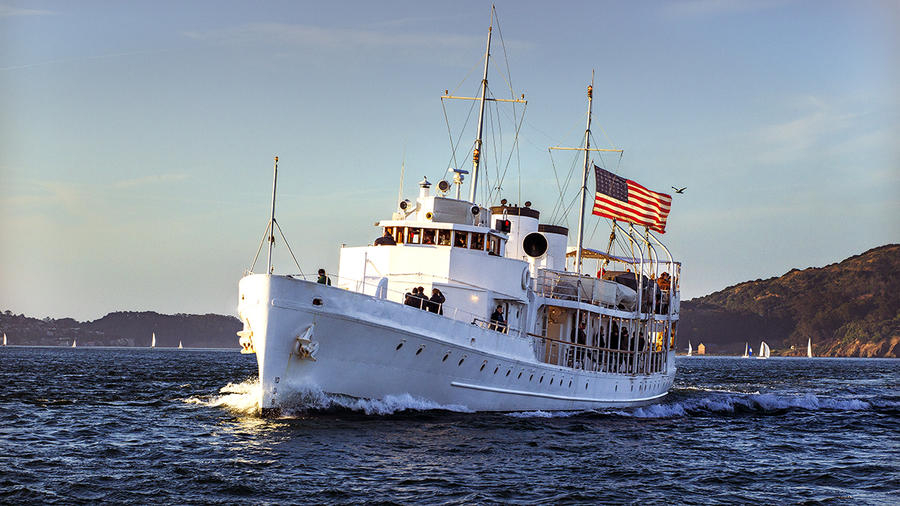 We think so. Here's why. She's a national landmark  The only National Historic Landmark west of the Mississippi honoring Franklin…
We think so. Here's why.
She's a national landmark
The only National Historic Landmark west of the Mississippi honoring Franklin Delano Roosevelt, the USS Potomac served as the 32nd president's "Floating White House" from 1935 to 1945. During his inaugural cruise to the Bahamas, Roosevelt (above, left) invited the islands' Governor General and others to join him for lunch in the yacht's fantail salon.
She hosted royalty
King George VI and Queen Elizabeth boarded her in June 1939 for a short trip to George Washington's tomb at Mt. Vernon, where the king laid a wreath. It was the first visit of a reigning British monarch to the United States. President Roosevelt also used the yacht for weekend fishing trips, sailing from the naval base in Washington and down the Potomac to some quiet cove along the Chesapeake Bay.
She survived hard times
After the president's death in 1945, the Potomac was returned briefly to the US Coast Guard. Then a succession of owners used her for everything from ferry service in the Caribbean to drug running. Seized by customs' agents in 1980 and towed to Treasure Island in San Francisco Bay, she pierced her hull on a splintered piling and sank in 35 feet of water. Two weeks later, the U.S Customs Service raised and towed her to Oakland for auction.
Her restoration was a labor of love
With no bidders at auction, The Port of Oakland acquired her for $15,000. A non-profit was formed to raise funds; the restoration took 14 years. "It was an amazing effort, says the Potomac Association's Marti Burchell. "Everybody pitched in to help,  from iron workers to maritime leaders."
She has a vibrant home port
Now berthed in the Port of Oakland, north of Jack London Square, she's just steps from hotels, restaurants, wine bars like Rosenblum Cellars and tasting rooms Jeff Cohn Cellars, and the square's regular events such as "Dancing under the Stars" on Friday nights.
She's a floating museum
Interesting exhibits are displayed throughout the yacht. This Chris Craft, which replaces the one that FDR used during his fishing trips, was donated, like many other items onboard that are close to authentic (many are the real deal). The USS Potomac, now largely operated by professional crew and volunteer docents, runs 1-hour educational tours for local school children 16 times per year ("they're living history tours", says our docent, Sarah). Other outings include 2-hour sightseeing tours, special events such as wine cruises, and docent-led Dockside Tours.
Deck time is magical
City views and passing landmarks, such as Coit Tower atop Russian Hill (pictured) are big draws to the yacht's upper deck, even when wind whips and fog billows above the bay.
Call it cruising the bay, with benefits
Helping to keep history alive while savoring bay views: What could be better?
Keep Reading: