The West's Most Unique Rafting Trips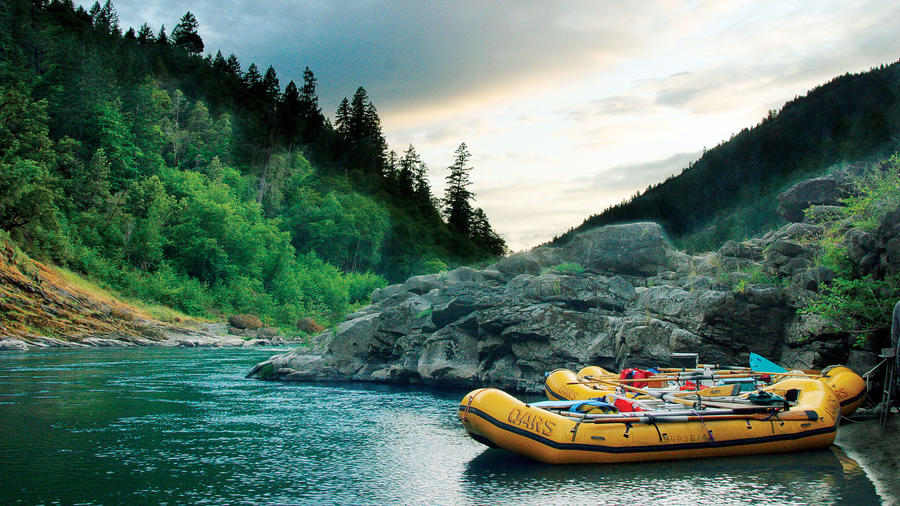 Our favorite river adventures for foodies, photo geeks, and classical music fans
1. COLORADO RIVER, AZ
String quartet in the grand canyon It may appear incongruent at first―a cellist carting her instrument up slick rock, a grand master violinist keeping time with his sandaled foot―but once the musicians plunge into Beethoven or Bach, you'll know the grandest of concert halls. Along this 225-mile journey down the Colorado, the string quartet plays 10 full-length concerts in naturally carved amphitheaters, often mingling strings with the rhythm of waterfalls. A true trip of a lifetime; spaces fill early, so call now for June 2009. 15 days; $3,370 (2007 price); class III-V rapids; Canyon Explorations; 800/654-0723. —Laura Stavoe
2. SNAKE RIVER, OR & ID
Photography workshops Whitewater washing over a boulder, a black-eyed Susan backed by weathered wood, an osprey soaring over the deepest gorge in North America … Professional photographers Marissa Lopez and Larry Jones work with digital and film photographers of all skill levels. They'll show you a hundred ways of looking at a river, with a teaching style that's as fluid as the Snake. 4 days (Aug 14–17); $1,195; class III-IV rapids; Hughes River Expeditions; 800/262-1882. —L.S.
3. ROGUE RIVER, OR
Gourmet cooking Thrills, spills, and at the end of the day, a multicourse meal prepared by renowned chef Bob Anderson and his wife, Mary (from V Restaurant in Murphys, California), who are there to share their vast knowledge of food and wine. Learn how to make a creamy risotto or carve a whole beef tenderloin into filet mignon. Or just lounge riverside, in comfy camping chairs, with real glasses of fine wine in hand, and wait for candlelight dinner to be served. On tablecloths, of course. 4 days (Sep 18–21); $1,215; class II-III rapids; OARS; 800/346-6277. —Susan G. Hauser
4. UPPER COLORADO RIVER, CO
After dark Rafting the Colorado at night sounds, umm, dark. And scary. But anxieties fade as quickly as twilight on this one-of-a-kind Lakota River Guides "night vision" trip. Peer through superhero-like lenses during a mellow 8-mile float beneath the Milky Way―and see the river in a whole new light. The greenish amplified glow lets you spy on deer, raccoons, beavers, and other wildlife in the wee hours. 4 hours; $95; no rapids; Lakota River Guides; 800/274-0636. —Ted Alan Stedman
5. SKAGIT RIVER, WA
Bald eagle-viewing Want proof that bald eagles have made a comeback? Spend just four hours floating the Skagit and you could see upward of 200 of the regal, white-crowned birds, which soon may be delisted as a threatened species. December through February is prime viewing time, when the eagles migrate south to feast on salmon. So file this away till winter―when you'll want to bundle up, drift down the river, and point your binocs toward the treetops. Half-day; $75; no rapids; Pacific NW Float Trips; 866/389-1349. —Molly Lori
6. FLATHEAD RIVER, MT
Saddle and paddle This hardy trip kicks off with a horseback ride through Indian paintbrush-filled meadows to a secluded camp in Montana's Flathead National Forest, where wranglers grill steaks on the campfire as the last light melts over the peaks of nearby Glacier National Park. The next three days are spent tackling the turquoise water―rewarded by Dutch oven brownies and the perfect combo of crickets and current that sings you to sleep. 4 days; $625; class II-III rapids; Wild River Adventures; 800/700-7056. —Lynn Donaldson
7. LOWER KLAMATH, CA
Yoga on the river There's nothing like doing the tree pose among the trees―especially on a sandy riverbank in the redwood-studded Siskiyou Wilderness. Days start and end with gentle yoga and meditation―and in between, the silence is broken by hoots and hollers as you splash through the Klamath. Whether you're new to namaste or are as bendable as the necks of the great blue herons lining the river, you'll find true inner peace as you bed down beneath the dizzying stars. 3 days (Aug 4–6); $400; class II-IV rapids; River Dancers; 800/926-5002. —Julie Tomasz
8. UPPER ARKANSAS RIVER, CO
Inn to inn For river rats who prefer a cushy king bed to a Therm-a-Rest after a day on the rapids, this inn-to-inn trip on the Arkansas is for you. The 25- to 80-mile voyage includes an option to mountain bike or ride horses beneath 14,000-foot peaks. When the day's fun is done, you're whisked away to Western-chic B&Bs―for a hot shower or spa tub and a hearty meal. 2–4 days; $260 per day; class III-V rapids; Wilderness Aware Rafting; 800/462-7238. —T.A.S.
9. SALMON RIVER, ID
Natural and human history Rushing 80 miles through the 2 million-acre Frank Church-River of No Return Wilderness, there's nothing dry about this on-river history course―including "professor" Cort Conley, an Idaho historian. The affable author of 11 books will introduce you to the sites and stories of the Salmon River while botanist Roger Rosentreter rattles off the scientific and common name for any wildflower, tree, grass, or lichen that catches your eye. All you have to do is listen and learn, as you ride the rapids and lounge on wide sandy beaches. 6 days (Aug 20–25); $1,550; class III rapids; Canyons Incorporated; 888/634-2600. —L.S.
10. AMERICAN RIVER, CA
Wine tasting First swirl and sip, then swirl along the South Fork―it's a decidedly refined way to enjoy a weekend on the river. Especially in El Dorado County, land of juicy Zinfandels. Enjoy a guided tour of the region's most noteworthy wineries, followed by a full day of riding famed and feared rapids like Troublemaker, the Triple Threats, and, our favorite, Meatgrinder. Toast your adventures over dinner at the campsite, and let the murmur of the river rock you to sleep. 2 nights; $309; class III-IV rapids; Adventure Connection; 800/556-6060. —Lisa Taggart
Keep Reading: