Bryce Canyon N.P. Itineraries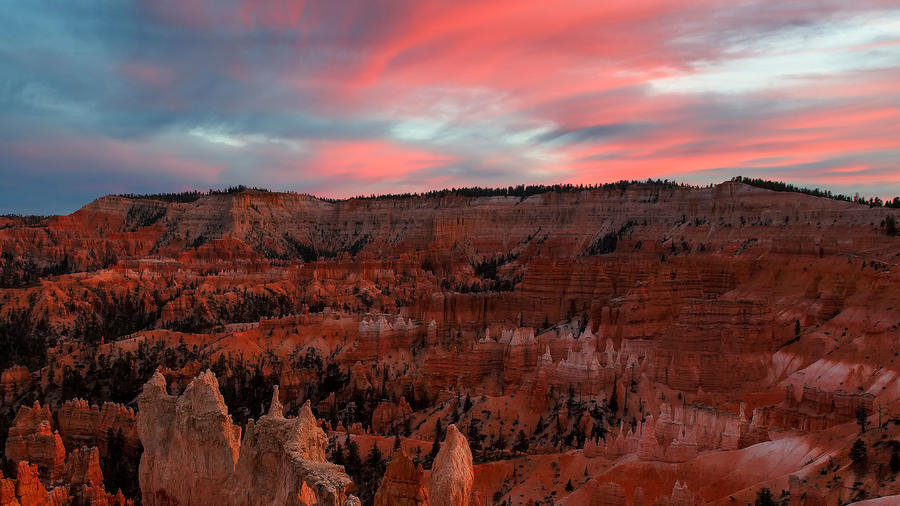 Your roadmap to the best of Bryce Canyon, whether you've got a day or a long weekend to spend
Unless you're planning on hiking all fifty miles of Bryce's trails, you can do the park in a day or two, which is good because there are so many other things to see and do in the area. With three days, explore Bryce, drive one of the most beautiful roads in the country, sleep in a renovated Airstream and have one of the best meals of your life.
DAY 1: BRYCE CANYON
Saddle up. Canyon Trail Rides' three-hour horse (or mule) trip heads down into the Bryce Amphitheater on a dedicated stock trail. You'll also ride part of the Peek-a-Boo Loop trail. 
Watch for prairie dogs.  Bryce Canyon is home to the country's largest population of Utah Prairie Dogs. They can be regularly seen in meadows bordering the main park road around Sunrise and Sunset points. 
Soak in the sunset. Sunset Point is one of Bryce's most popular overlooks, and it's no surprise why. In summer, the point is crowded. If you want a great photo, bring a camp chair and arrive about an hour before sunset—bring a warm jacket to wear—to secure a spot up front. 
Classic dinner. The dining room in the Lodge at Bryce Canyon opened in 1925 and has been impressing diners ever since with its white tablecloth service and elegantly rustic décor. 
Settle in. There's only one non-camping overnight option inside Bryce Canyon National Park and that's where you're staying tonight, the Lodge at Bryce Canyon. Its location is convenient from Sunset Point and sets you up perfectly to be at Sunrise Point first thing tomorrow morning.
Night skies. Before falling into bed, check to see if one of the park's "Dark Rangers" is leading any kind of stargazing or astronomy program tonight. Bryce Canyon is known for having some of the best visibility in the country—on a clear day you can see Navajo Mountain, 80 miles south; on a really clear day, you can see Humphrey's Peak, 150 miles away and on the far side of the Grand Canyon—and that's true at night too. Dark Rangers share the park's unparalleled night sky through lectures, telescopes and slideshows. 
DAY 2: BRYCE CANYON TO ESCALANTE
The early bird gets the sunrise. Steps from the Lodge at Bryce, Sunrise Point is, arguably, the best place in the park to catch the sunrise. The hoodoos start lighting up—yellow, orange, red, even pink—about 20 minutes before the full sunrise.
Eat up. Since you've got a hike ahead of you, don't be afraid of eating a big breakfast in the Lodge's dining room.
Hike to Fairyland. Check out the Tower Bridge and China Wall formations, but don't ignore the bristlecone pine trees that grow along this trail. Bristlecone pines are among the longest-living trees in the world. One in California is 4,847 years old. None in Bryce are that old, but several are upwards of 1,000 years old.
Road trip. The beauty of this area is not confined to the boundaries of Bryce Canyon National Park. Wave goodbye to the park as you head east on Utah Highway 12, which took over four decades to build. The Highway is an All-American Scenic Byway and between Bryce and Escalante passes vermillion slickrock and mounds of rock filled with dinosaur fossils. We don't want to totally spoil the surprise, but, as you drive this stretch of road, know that it doesn't compare to what you'll drive tomorrow.
Dine back in time. Stepping into Circle D Eatery feels like you've stepped back in time at least several decades, in a good way—service is super friendly and the food is a good value. 
Rough it, kind of. Indulge your dream of sleeping in an Airstream at the Shooting Star RV Resort. It's got eight of them, all with kitchens and bathrooms and decorated like a Hollywood star's was during the filming of one of their movies. 
DAY 3: ESCALANTE TO BOULDER
Get your camera ready. The 122-mile long Highway 12 has two sections that are absolutely stupendous and inarguably among the most beautiful stretches of road in the country. Amazingly, arriving in Escalante from Bryce via 12, you haven't hit either of them yet. Hit the first one this morning. Climb out of Escalante before a rapid descent down to the Escalante River. Then comes a second climb, which tops out on a ridge with sweeping vistas of petrified dunes and slot canyons. Fair warning: neither side of the road has guardrails here and both sides drop off a couple of thousand feet! Descend the ridge into Boulder. 
Stop for a snack. You'd never expect to find a perfectly pulled shot of espresso in a town as tiny as Boulder, but you'll be surprised if you stop in at Burr Trail Outpost. They've got a selection of baked goods too. 
Hit the trail. If you're up for more driving, head for Burr Trail. Only paved in the 1980s and 1990s—a few sections remain unpaved today; they're gravel—this side road passes through Capitol Reef National Park and Grand Staircase-Escalante National Monument en route to Glen Canyon National Recreation Area. It requires a sense of adventure, but not a 4WD vehicle. (Although all vehicles are recommended to avoid this road when it's raining or wet.) From Boulder, head southeast as long as you're comfortable. Glen Canyon NRA is about 70 miles. Take the same way back to Boulder.
Dinner and a lodge. Since you've survived what is most likely one of the most demanding drives of your life, it's time for the best meal and bed of the trip, Hell's Backbone Grill and Boulder Mountain Lodge. 
Keep Reading: