Meet the Expert: "Airstreamer" Mike Conner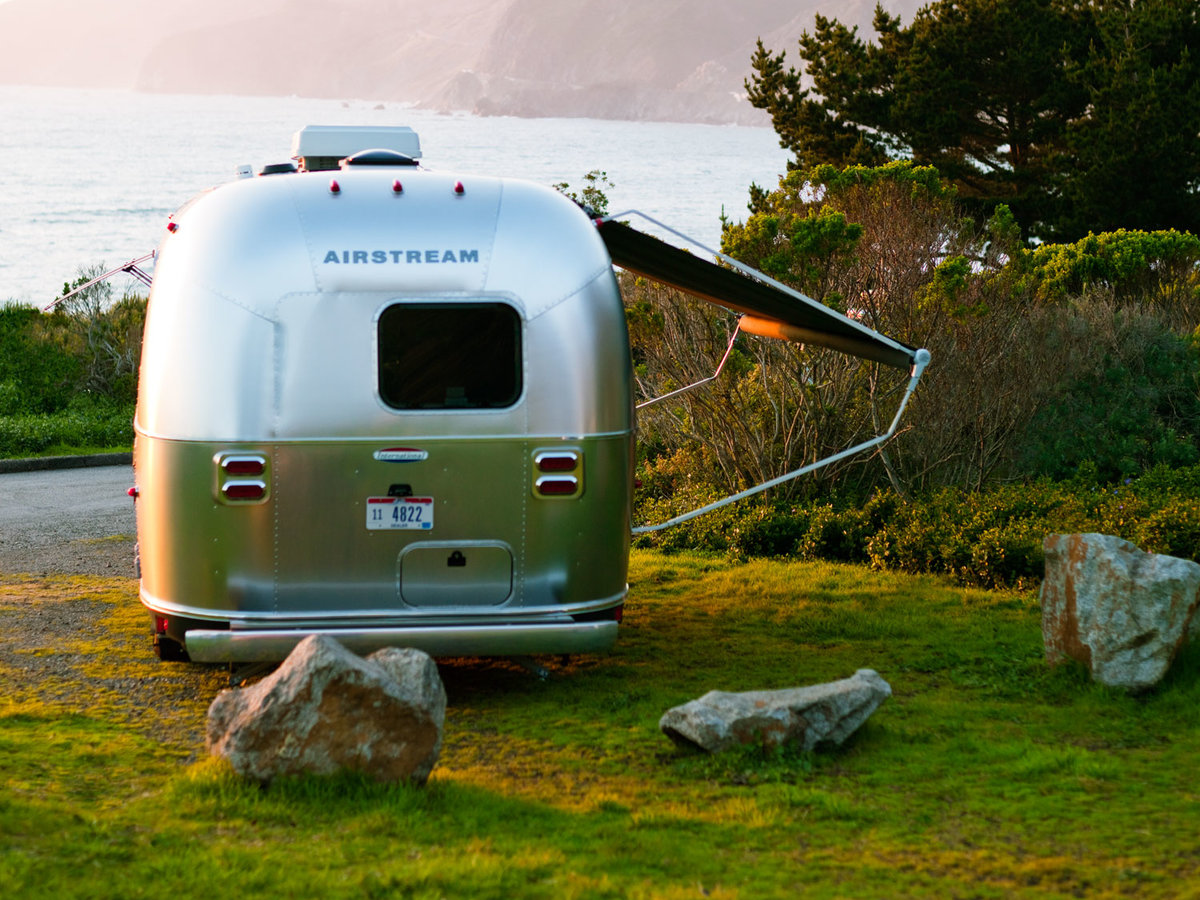 Meet Mike Conner, a senior project director for The Nature Conservancy and devoted Airstreamer, who's as enthusiastic about protecting the environment as he is about Airstreams.
It's no secret that Airstream trailers are an American icon—and that we here at Sunset are slightly obsessed with them. These sleek "metal tents" have been around since the 1930s and never go out of style. In fact, they inspire an unrivaled passion among those who painstakingly restore vintage models to their original beauty. One such devoted Airstreamer is Mike Conner, a senior project director for The Nature Conservancy, who's as enthusiastic about protecting the environment as he is about Airstreams. We caught up with Mike to learn more about his dual passions.
Sunset: How did you catch the Airstream bug? 
Mike Conner: Back in the early 1990s, I was a single guy into windsurfing. You get to a windy spot, and you stay there. I got to such a spot in the California Delta, and there was a beautiful woman who knew how to windsurf, and she had a cool silver bullet Airstream trailer—a 22-foot 1960 Safari. In 1995 we were married, and in 1999 we had twins. The original trailer got to be too small. We sold it and bought a pop-up trailer, but it never felt like home like the Airstream did, with its beautiful wood cabinets and warm propane light like a Coleman lantern. We sold the pop up without ever having camped in it—and bought and restored a 25-foot 1969 Airstream Tradewind.
S: Walk us through the highlights—what makes your Airstream stand out?
MC: I have three Airstreams that I've restored: the Tradewind; a 22-foot 1948 Liner; and, the most unique, a 1952 Cruisette (pictured). At 14 feet 8 inches tip to tip, it is the shortest Airstream ever made. Fewer than 35 survive of the 100 that were manufactured. I'm amazed at the amount of room inside. It's really a smart and efficient use of space. The dinette seats four and opens up into a bed, and a separate double bed sleeps two. There's a stainless steel-and-aluminum icebox, a stainless steel sink with hand water pump, and a two-burner propane stove. There's storage space under the bed and dinette, and there's a trunk in back for storage, too. There are overhead cabinets, like on an aircraft. The interior is painted in a uniquely beautiful Zolatone green, with flecks of tan and red. The trailer was so well made that the dinette has all of its original upholstery and to this day is comfortable. My wife calls it "the egg" because of its interior coziness.
S: How does your work at The Nature Conservancy inform the way you travel (or vice versa)?
MC: I've taken the Airstream on trips for The Nature Conservancy to places where I needed to spend time monitoring and restoring wetlands and watersheds to provide reliable drinking water in California and to serve the plants and animals there. For example, to assess site conditions for a project to restore wetlands I needed to hike the property, looking at the topography, soil types, historic flooding regimes and the benefits of a meadow that can serve as a sponge to hold drinking water. At the end of the day, I got to come home to my "metal house," which lets me work on these projects in comfort. The Cruisette has good inside lighting for writing and recording data and is small enough for use in the backcountry, including the Sierra and high desert.
S: What's the most hair-raising adventure you've had in your silver bullet?
MC: In the early '90s, we were on the road to Yosemite at night in a driving snowstorm. It was very tough to see, and we were pulling the silver bullet behind us, coming down Tioga Pass to the Yosemite Valley, with steep drop-offs on either side. They closed the roads right behind us. It was a Thursday night, and we were ahead of the crowds. The next day, we cross-country skied on trails through the giant sequoias, returning to the warm glow of our Airstream. The only inhabitants in our campground were my wife and me, our two dogs and a coyote.
S: Best spot to set up camp?
MC: One of the most memorable places was alongside the South Fork of the Yuba River, where I camped in the 1948 Liner. I was exhausted after a day working in the field. I could hear the sound of the stream, as I fell asleep at 7 p.m. I didn't wake up until the next morning.
And wherever you camp, you're sure to find a friend in every campground. In an Airstream you meet people, and just about everyone has an Airstream story, such as memories of their grandpa owning one when they were a kid.
S: What's your best advice for newbies or those interested in testing the waters?
MC: The best Airstreams were built in the '50s and '60s. If you're going to buy one, look for one from that era. They're light, functional, easy to fix and also durable. But you may find you can't have just one. I have three. I know people who have bought and restored a lot more.
S: We've seen a renewed interest in Airstream travel in recent years; what's the allure of traveling this way?
MC: It's just a really cool trailer—smart in its design, very aerodynamic and the earlier models are very lightweight. And Airstreams are part of what defines us as Americans, like Ford cars or NASA rockets. They've been a part of Americana since the 1930s, although because of the wartime need for aluminum they ceased production during World War II, starting up again in 1946. And speaking of NASA, the space agency used Airstreams in 1969 to house and quarantine astronauts when they returned from the moon.
S: Any other highlights of owning an Airstream? 
MC: When our children were infants, we couldn't backpack. Babies have to have naps and warm milk. These amenities are pretty tough to pull off in a tent. The Airstream trailer helped satisfy our wanderlust, while also exposing our children to nature and the outdoors.
My advice? Find a vintage Airstream that fits your style and suits your needs, and go. The simplicity of the vintage trailers is what it's all about. Without televisions, microwaves and other distractions, it really focuses you on the world right outside your metal house on wheels. You're there in comfort with your Airstream. You make the rest of the journey count by getting out there to explore.
Keep Reading: