Meet Herb Quady, Southern Oregon winemaker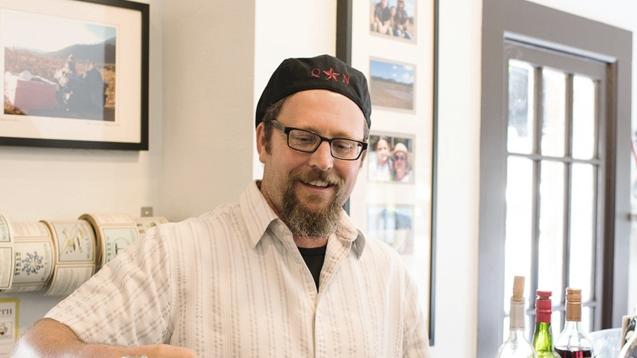 In our October issue, we explore three exciting wine regions in the West in The Grand Wine Tour. Up-and-coming Southern Oregon, a sprawli...
In our October issue, we explore three exciting wine regions in the West in The Grand Wine Tour. Up-and-coming Southern Oregon, a sprawling land of 150 microclimates, is one of our not-to-miss three. But let's face it: when people think Oregon wine, they think Willamette. So, we sat down with Herb Quady, winemaker at Quady North in Applegate Valley, for a bit of extra insight into this undiscovered wine country.
Quady grew up in central California inspired by parents Andrew and Laurel Quady of the famous dessert wine Quady Winery in Madera, California, so he knows a thing or two about wines. In fact, in Southern Oregon, people often refer to him as "wine royalty." But Quady, who also runs a custom crush facility called Barrel 42, takes his wine pedigree lightly. "I'm a second-generation winemaker in a young industry, so I probably have more of a legacy than some," he says. "However, it's hard to feel very royal when you're making wine in a renovated pear warehouse adjoining the tracks," he says, joking about Barrel 42's historical fruit packing site in Medford.
So, what exactly drew Quady to Southern Oregon? Why, it's the pioneer spirit in a place where pioneering is still possible. "I was working for a large winery at the time and felt disconnected to the process. I wanted to be involved in the entire deal. I also thought really highly of the winemakers in my father's generation, who had done so much pioneering in California. It seemed to me that there wasn't much opportunity to develop new regions or get in on the ground floor," he says. "I didn't know much about Southern Oregon, but I became really excited when I learned that the soils and climate shared characteristics with other great regions." Quady explains that unlike Willamette, Southern Oregon is warmer, drier, and wilder. Willamette red wines tend to be softer and more delicate because they are based on Pinot Noir. In the South, red wines are bigger and richer, he says.
A decade ago, there were 50 wineries in Southern Oregon, and today there's about 170. Just call it the next wine frontier. Says Quady about being a winemaker in Southern Oregon, "It's an extremely rewarding thing to start with an idea, based upon everything you know or think you know about wine, and then to translate that into a plan. The plan involves choosing a site, varieties, rootstock, training and trellis systems, planting and cultivating and finally all the winemaking and marketing decisions. When, at the end of it all, you make something that comes close to your idea, and is appreciated by those close to you and those you respect, that is the most rewarding thing. It's the realization of a long-term goal, but it's also the beginning of a lifetime of learning and refinement." Take note, pioneers like Quady are making this region's wines worth checking out.
Find out more in our October issue with our Grand Wine Tour, and discover a mile-by-mile journey through Southern Oregon, where we introduce you to the most intriguing wineries in the region, best bottles to buy, plus irresistible restaurants and hotels. Oh, and along the way, you'll also discover the ultimate wineries and recommendations in Napa and Santa Barbara too.
Keep Reading: