Meet a Real Cowboy: Q&A with Clay Nannini of Mustang Monument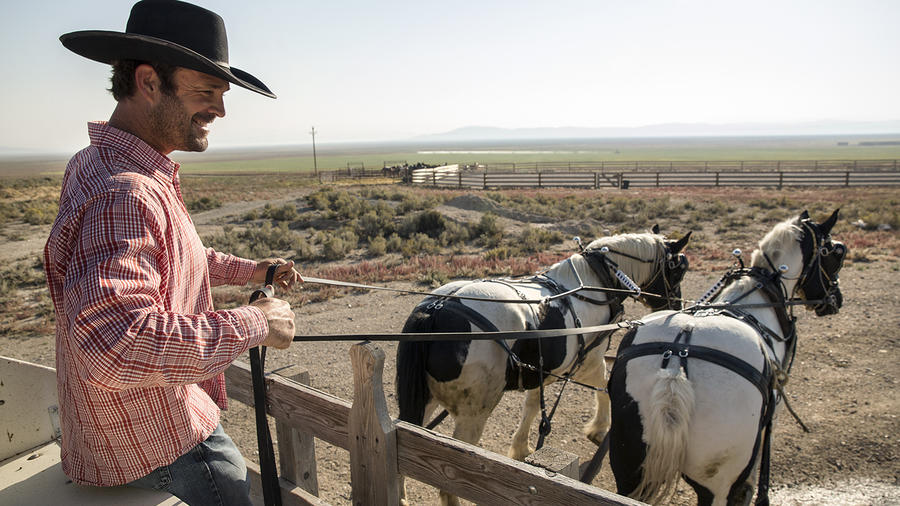 For our June story Wild, reporter Mac McClelland writes about her beautiful, but bumpy adventure at Mustang Monument, a luxury eco resort ...
For our June story Wild, reporter Mac McClelland writes about her beautiful, but bumpy adventure at Mustang Monument, a luxury eco resort and reserve where guests can experience wild horses in northeastern Nevada. Madeleine Pickens, former wife of billionaire T. Boone, started the resort as a way to save America's mustangs. While we had Mac delve into the complex mustang controversy (see our story here and stunning photos here), we also sat down for a quick Q&A with cowboy Clay Nannini, who works at the seasonal resort as one of Pickens' "Marlboro men."Q: Mustang Monument is open from the end of May through September. What do you do in the off-season, and where do you live?
A: I live in southern Idaho, just a couple hours away from Mustang Monument.  In the off-season, I pretty much do the same thing… work hard at having fun! Like so many other dads of young kids, I just try to keep up with the all "stuff" they do. Being a kid today is a full-time job, and my three kids strive to be "Employee of the Month."
Q: What are some of the things you do as a "Marlboro man" at Mustang Monument?
A: I just do whatever needs done at the time. My favorite part of the job is meeting people from all walks of life. Their reaction to my "backyard" reminds me to not take it for granted.
Q: What's the hardest part of your job?
A: Hangovers.
Q: Have you always grown up around horses? What was that like?
A: My life has always had horses in it. So, it's difficult to say what it would have been like without them. Who knows, I might have been one hell of a golfer.
Q: You won a college scholarship for your rodeo skills. How did you get started?
A: Not sure how I got started in rodeos, but I was really young.  Shortly after, I figured out that there were girls at rodeos, so I stuck with it.  After all, it's how I landed my wife.
Q: With your two sons and daughter, are there certain lessons about horses in general that you hope to pass on to your kids?
A: My kids certainly love horses, but they are far more diverse than I am or ever was. They do so many things and play a multitude of sports that I'm not sure what they will become most passionate about.  I would be surprised if they choose a life that involves being on the back of a horse. Most of the time, riding equates to long and really hot or exceptionally cold days.
Q: Speaking of kids, what activities are there for little ones to do at Mustang Monument?
A: Mustang Monument is spread over a half million acres. If a kid can't find something to do, then they have no imagination. I have yet to see a kid suffer from boredom out there, but I have seen them show signs of fatigue on occasion.
Q: Any suggestions for guests to make the most out of their stay?
A: Every accommodation is top notch. I honestly couldn't choose one over the other. I would recommend that guests get a lot of rest prior to coming to the ranch. It's always an option to sit, relax, and take in the wide-open spaces and solitude, but I don't think I can recall anyone doing that. My experience is that people want to "get up and go," and that sure suits me.
Q: How about tips for first-time horse riders? 
A: Hang on!
Keep Reading: