Fall Road Trip: Eastern Sierra, Day 3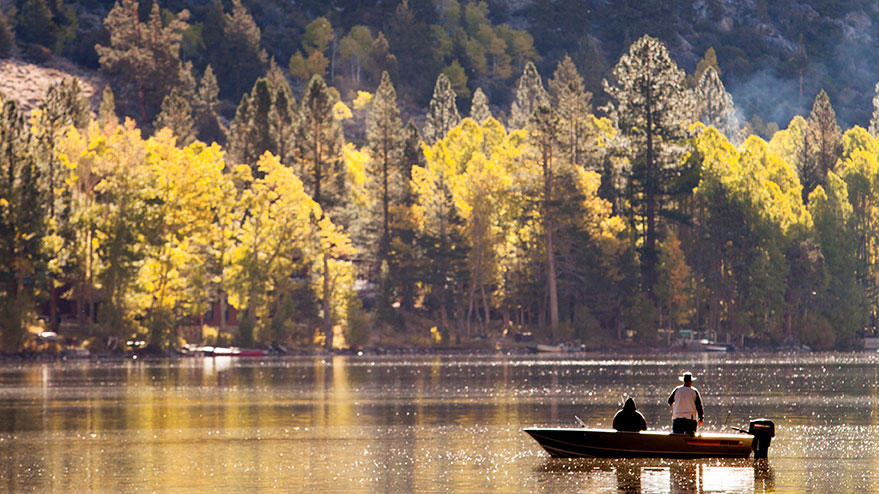 For seven days, we're taking you on a fall road trip through the Eastern Sierra of California and Nevada. We'll go behind the scenes of our September issue's cover story, "The Road to Gold," with bonus photographs and videos. Follow along and use our daily itinerary to plan your own trip up quiet, gorgeous U.S. Highway 395. See days 1, 2, 4, 5, 6, and 7.
June Lake, CA
8 a.m. Ansel Adams Wilderness Hike
Meanderers will enjoy the 4-mile round-trip to Parker Lake; hardcore trekkers will prefer the steep 7-mile ascent to Gem Lake.
1 p.m. June Lake
In late September, the quaking aspens in and around June Lake put on a show. As summer days shorten, the trees' translucent leaves glow like stained-glass windows. To see them, drive the June Lake Loop, starting on the north side to get the full effect. Pass Grant Lake, a deep blue tarn nestled in the sagebrush. Cruise around aspen-lined Silver Lake, then continue past 10,909-foot Carson Peak on your way to Gull Lake and the village of June Lake.
6 p.m. June Lake Brewing Co
This warehouse-style microbrewery caters to the young, athletic crowd with free foosball and a thirst-arresting double IPA. 131 S. Crawford Ave.
Sleep: Double Eagle Resort and Spa
You're nearly halfway through this road trip, so it's time for a little pampering: a king bed and whirlpool tub, a hot stone massage, and dinner with a view of Carson Peak. The Double Eagle Resort in June Lake has all of that, plus a 60-foot indoor pool. Rooms from $169, restaurant $$$; 5587 State 158.
Keep Reading: