Eating Up the West Coast: Travels with Stella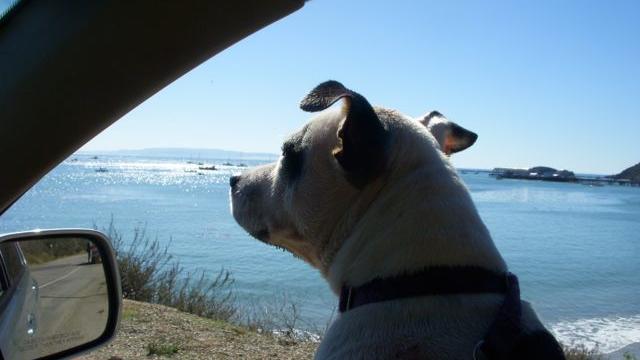 Brigit Binns, author of "Eating Up the West Coast," shares tales from her road-trip cookbook for Sunset, scouted with a dog as her co-pilot.
Brigit Binns is the author of Eating Up the West Coast, an adventure-packed road-trip cookbook that she wrote for Sunset. Here, in her first of a series of guest posts, Brigit shares what it's like to travel with a canine companion in the passenger seat.
Once upon a time, my visceral dislike of winter in upstate New York dictated the start of a peripatetic tradition: I drove to California every fall, then drove back in the spring.
This continued for six years, until my long-suffering other half finally agreed to relocate full-time back to my home state of California. He was mostly unavailable for these drives, and so my companion was Stella, a black-and-white English Staffy with a wicked sense of humor. ("Why not fly?" I am often asked. Easy: My shoes, my knives, and most of all, my rigid unwillingness to ever put a dog on an airplane.)
Stella is very friendly—to both people and livestock (cats: not so much)—and she worked hard to earn her nickname "The Love Pig." In her view, there are no humans on the planet that aren't potential best buddies. Dog lovers spot her from blocks away and hone in like guided missiles, gradually losing height as they approach in what becomes a sort of crab-walk. Children are convinced she's an animated plush toy. Non-dog lovers may try to get away, but usually lose motivation and give in to the urge to cuddle.
I'm happily settled on the West Coast now, with no need for that biannual cross-country drive. And yet a little part of me still misses the romantic escapism of the open road. I have never felt so free as when I trundled down the Hudson Valley driveway at the beginning of a coast-to-coaster, road-trip mixes cued up and ready to roll, Stella beside me. Mile 1; 2,999 to go.
So imagine my bliss when Stella got to sit beside me again last year (some would say she insisted upon it) for a purely Western road trip, helping to research a book for Sunset called Eating Up the West Coast. We covered about 2,000 miles in less than 2 months, starting 35 miles from the Mexican border and ending not far from Canada. And we had a blast (you can journey along with us here).
Stella has a sixth sense about hotel rooms, of which she's stayed in hundreds. She knows which door is ours even before I slide in the key. I'm glad she's a hands-free dog, because I'm always wheeling my own bag with one hand, balancing her bag and blankie under an arm, and dangling the travel wine and my Jambox from some other appendage.
Usually, I'll head out for dinner soon after our arrival, and the look on her face could melt Greenland. (Of course I set up her bed, water, food, and toys first.) But even when she was younger (she's nine now), she was a bizarrely patient pup. She quickly learned that I'd always return to our hotel room, and that I'd have new toys and snacks to offer before the customary mad moment that precedes complete and total collapse.
Beyond Stella's smooth-dog profile, I've seen miles of ocean, spectacular beaches, small towns, and lush vineyards. On the occasions when I don't have her head between me and the scenery, the window feels empty. I'd go anywhere with Stella at my side—yep, Dog is my co-pilot—but on our West Coast trip, we truly won the human-canine lottery.
Brigit Binns is the writer of Eating Up the West Coast and the author or co-author of 28 more cookbooks, many of them for Williams-Sonoma. After spending seven years in London, three years in Southern Spain, and five (somewhat ill-advised) years in upstate New York, she now lives, eats, drinks great wine, and works in the wine country of Central California. The Huffington Post called her opinionated drive-eat-think blog Roadfoodie one of the "Best Food and Drink Websites."
Keep Reading: