Explore the L.A. River's parks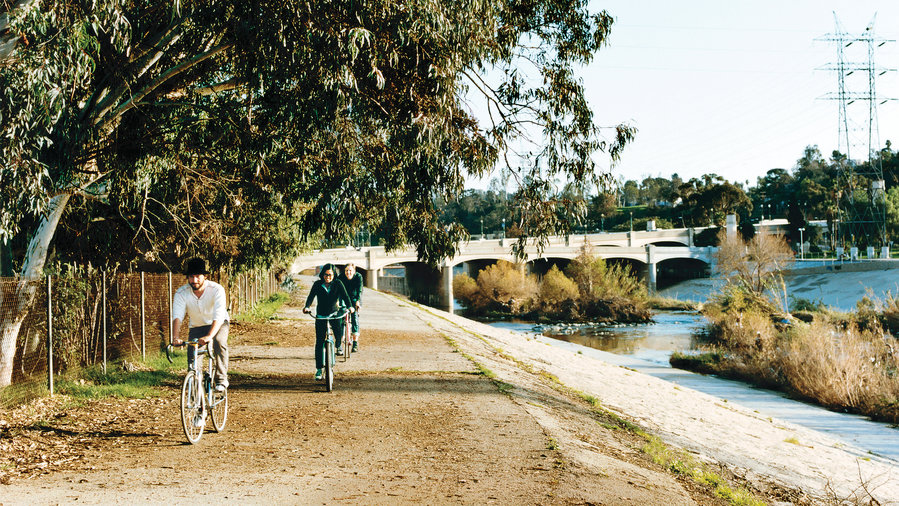 Movie clips from Grease and Terminator 2 just don't do this river justice
Why go in late spring: The Los Angeles River isn't just the big concrete channel you know from movies. Hop on the Glendale Narrows riverside path for a leisurely 5-plus-mile (one way) bike ride or walk, and you'll be wowed by this park-dotted green oasis that looks like … a river!
It's not what you remember: Movie clips from Grease and Terminator 2 don't do this river justice.
The river runs through it: The river runs 51 miles from Canoga Park, across the San Fernando Valley, past the hills of Griffith and Elysian Parks, along the east side of downtown L.A., and out to the ocean at Long Beach.
Number of bird species: 175, including herons, American coots, and black-necked stilts.
Upstream downward dog: Check out the yoga course downstream from Los Feliz Boulevard, along the east bank.
Chutney detour: India Sweets & Spices ($; 3126 Los Feliz Blvd.; 323/345-0360).
Mediterranean must: Canelé ($$$; 3219 Glendale Blvd.; 323/666-7133).
Read up:  Down by the Los Angeles River (Wilderness Press, 2005; $18) by Joe Linton.
MORE WAYS TO ROCK THE RIVER
Take a tour with the pros
Check out Friends of the Los Angeles River's monthly walks (third Sundays), regular car and bus tours, and occasional bike rides. Next walk 4:30–6 Jun 21, $5; next bike ride 10–noon Jun 6, $10; folar.org
Pitch in
Get your feet wet at Friends of the L.A. River's annual blowout cleanup, La Gran Limpieza. Enjoy a duck's-eye view of the river and live music while you clean up the scenery for people, ducks, and L.A.'s other wildlife. May 9; check folar.org for 15 sites from the west end of the San Fernando Valley to Pasadena to Long Beach.
Ride with a group
Join the Los Angeles County Bicycle Coalition's Los Angeles River Ride for a 10-mile loop, a 100-mile loop (see a lot of the river!), or several routes in between. Relax afterward at the staging area in Griffith Park, with kiddie bike rides, live bands, and an international food fair. Jun 7; $39 through May 15, $49 after; la-bike.org
Keep Reading: