Scenic Skiing in Royal Gorge, California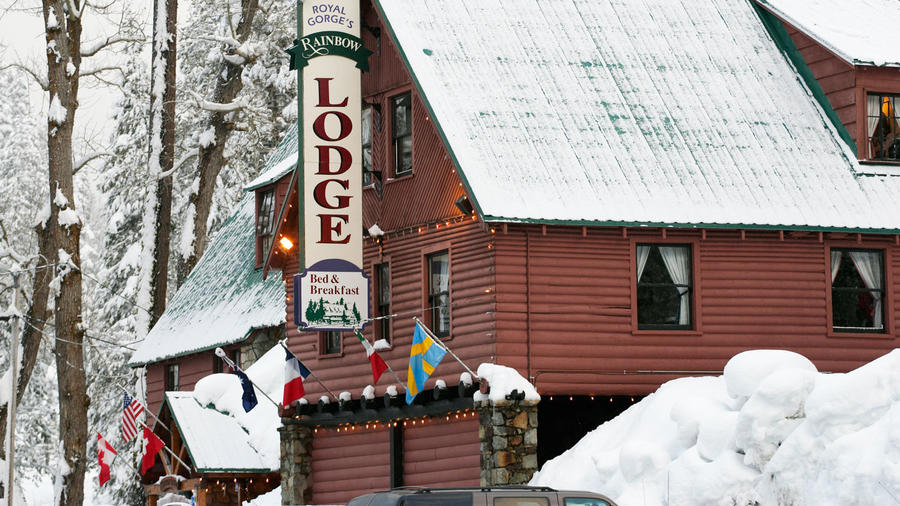 Forget Squaw Valley. Take your nordic to the next level at this inexpensive offshoot
Let the Tahoe traffic continue over Donner Pass while you peel off Interstate 80 on a snowy, bumpy backroad that seems to lead to nowhere. (Lack of signage doesn't help the matter.)
But stay the course, and you'll arrive at Royal Gorge―North America's largest cross-country ski "resort," where a no-fuss lodge and a handful of warming huts barely disrupt this 9,000-acre winter wonderland.
Ski: Rent a pair of skis right on-site at Royal Gorge (closed Wed; day pass $29;  royalgorge.com), and head out on your own to tackle groomed and well-marked beginner, intermediate, and expert tracks. Nordic newbies can test their skills on the scenic, mostly flat Lake Van Norden trails, while the hard-core prefer the challenge (and canyon views) of Point Mariah. Join a class or guided telemark trek; check out newly blazed trails especially for snowshoers; or take the interconnect trail for just over 10 miles to Sugar Bowl Resort―and gloat at the $66 lift tickets dangling from the parkas of all those alpine skiers.
Eat: Just up the road, by the Yuba River, is Rainbow Lodge, known for its indulgent weekend brunch, served in the timber-stone dining room of Engadine Café ($$; closed Tue–Wed; 50080 Hampshire Rocks Rd., Soda Springs; 530/426-3871). Dinner is worth a reservation too, with European game specialties like wild boar stew.
Sleep: From Royal Gorge trails, ski to your room at the Ice Lakes Lodge (from $199;  royalgorge.com), a knotty-pine throwback tucked in the trees beside tiny Serene Lakes.
Rest your aching legs by the stone fireplace in the bar, then pony up for a frosty pint and soothing French onion soup before adjourning to the game room to tackle a jigsaw puzzle or a board game. Try to snag an upstairs lakeview room.
If you do get the downhill itch: Family-friendly Sugar Bowl Resort (day pass $66;  sugarbowl.com) is closest (with some great chutes), but just over Donner Pass is world-class Squaw Valley USA (squaw.com), where white-knuckle runs and sweeping Sierra views set you back a whopping $83.
Keep Reading: