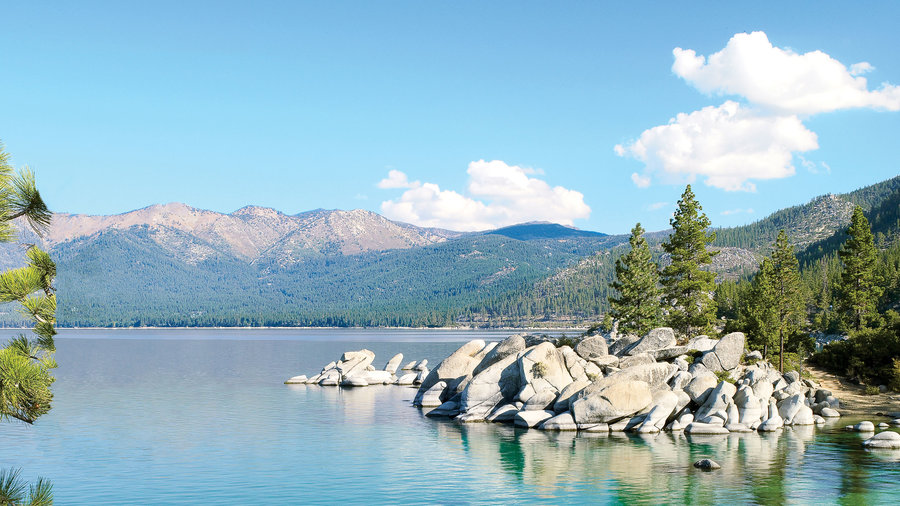 Our favorite things to do and see, and memories (you can still make) of summer at the lake
The scene
Families dot the beaches, and boaters dominate the lake; traffic slows on State 89, and the Truckee River overflows with inner-tubers. Still, from North Lake to Emerald Bay, and South Lake to Incline Village, you'll find plenty of peace, quiet, and to-die-for beauty.
Cruise the lake
Skip the stern-wheeler paddleboats packed with tourists for a wine-and-cheese sunset sail on the Tahoe Cruz. Departs daily from Tahoe City Marina in Tahoe City, CA; $60; reservations required; tahoesail.com or 530/583-6200.
Walk on water
Stand-up paddleboarding is the latest craze. Give it a shot, or go for a sit-on-top kayak from Tahoe Paddle & Oar (paddleboard or kayak rental from $20 per hour; 
8299 N. Lake Blvd./State 28, Kings Beach, CA; 530/581-3029).
Jump in
Lake Tahoe–Nevada State Park's Sand Harbor area is popular for its gentle turquoise coves and fine white sand. Get there before 10 a.m. to avoid the crowds. $8 per vehicle; on State 28, 3 miles south of Incline Village, NV; 775/831-0494.
Skinny-dip
For a quiet swim, hike 0.5 mile to Secret Cove and Chimney Beach, where those who hate tan lines like to hang out. Trailhead is off State 28, 2½ miles south of Sand Harbor; fs.fed.us/r5/ltbmu or 530/543-2600.
Wine and dine
Christy Hill ($$$$; closed Mon; 115 Grove St., Tahoe City, CA; 530/583-8551) serves a killer chile relleno with an equally killer lake view. The deck at Sunnyside Resort ($$$; 1850 W. Lake Blvd./State 89, 2 miles south of Tahoe City, CA; 530/583-7200) has a party scene and the best Hula Pie this side of Hawaii. Or make your own lake dinner menu.
Hang with the locals
Built in 1859, Chambers Landing Bar and Restaurant is set at the end of a pier. Arrive by boat or car, but if you're the designated driver, steer clear of the Chambers Punch. $; 6400 W. Lake Blvd./State 89, Homewood, CA; 530/525-9190.
Stay in a cabin
Carved wooden bears are everywhere at the woodsy Cottage Inn. From $158, including breakfast; just south of Tahoe City, CA; 800/581-4073.
Splurge on a room
Book a suite at the West Shore Cafe & Inn, then wait for a bald eagle to fly past your window. Rooms from $350, restaurant $$$$; Homewood, CA; 530/525-5200.
Pitch a tent
Easy swimming access and hot showers make for blissful family camping at D.L. Bliss State Park (from $25; reserveamerica.com or 800/444-7275). For views, the best sites are 148, 149, 151, 153, and 156. If Bliss is full, try Nevada Beach Campground, on the east side (from $28; recreation.gov or 877/
444-6777).
–Ann Marie Brown
Summers at the lake
"Cheeseburger, cheeseburger, cheese" sang the mountain chickadee, waking us in our sleeping bags as the sun peeked through the pine trees. My brother, sister, and I liked to camp out on our back deck, letting the bird's morning greeting serve as our alarm clock, signaling the start of another summer day on Lake Tahoe.
We grew up on the California side of the lake, in the big red house off State 89, just a 2-minute bike ride from Tahoe Park Beach. According to history, Lake Tahoe belonged to the Washoe tribe until 1844, when the area was "discovered" by John C. Frémont. But my great-grandparents discovered Tahoe in 1945, when they purchased what is now the iconic River Ranch Lodge ― and in my childhood mind, the lake was mine.
As soon as the snow started to melt, we'd bust out our banana-seat bikes, but it wasn't until school ended ― and the "cheeseburger bird" chirped ― that we knew summer had officially arrived.
Every morning, we'd race to the beach in our bathing suits and bare feet, toss our bikes on the rocky shore, and clamber up the pier. We'd sprint down the smooth wooden planks, our little legs gaining speed as we reached the end. We never stopped to catch our breath or brace ourselves for the bitter cold; instead, we threw our arms out in front of us and launched, unafraid, limbs flailing, into the frigid grip of the deep-blue water. The air rushed out of our lungs. We closed our eyes and dunked under, ignoring the brain freeze as we swam back to shore, eager to climb the pier and jump again. And again. And again.
In between, we'd fish for crawdads by hooking bits of raw bacon on a line. We'd play tag on the pilings and pool our money for Cokes and candy bars from the Tahoe Park store. I guess at some point we'd ride home for dinner, but what I remember most is heading back to the lake by flashlight, before bed. We'd resume our place on the pier, stare up at the thousands of diamonds dotting the dark sky, and do our best to make out any constellation beyond the Big Dipper.
Long live the lake
Some days, we'd kayak on the lake or raft down the Truckee River or ride horseback at Squaw Valley, occasionally sneaking horses back to our house to hang out in our yard. But leaping into the lake remained our morning ritual.
Since then, my lazy childhood summers have become weekend jaunts. Now I brave the bumper-to-bumper traffic; I see more boats buzzing about. I drive by the always-packed River Ranch parking lot and wish my parents hadn't passed it up as a wedding gift from my great-grandparents. (Believe me, they do too.)
At night, my family and I bring bottles of wine along with our flashlights down to the pier and stare up at the same starry sky. In the afternoon, we ride along a designated bike path instead of winding backroads.
As for the morning, I still have my ritual plunge into the lake. I do it daily. It just takes me a little longer to make that leap.
–Shana Mahaffey
More:  Lake Tahoe landmarks
Keep Reading: