California Coast RV Road Trip
What's it like to haul an Airstream 300 miles up the California coast? Romantic, nail-biting, and yes, cooler than driving a convertible. Get our road rules and route.
The sun is out. Sea air blows in through the rolled-down window. And there's nothing but plate-glass blue Pacific alongside us. My husband, Brant, and I are cruising the rugged, cliff-hugging highway on California's Central Coast—aka the stuff of road-trip dreams. Where you drive for miles upon miles, not even braking for traffic. Life is good.
Then we barrel past a sign that on any other excursion would be casually ignored—perhaps barely noted. It looked something like this.
I look at my husband. I look at the road.
He grips the wheel, stony-faced. We're towing a 23-foot Airstream trailer with a rig that would be right at home at a monster-truck rally—headlights that could freeze a herd of deer, tires the size of Texas. As we roar onto this white-knuckle stretch of Highway 1 north of San Simeon, all hairpin turns and glorious views of Big Sur, I have a moment of longing for my Volvo.
Airstream boot camp
Maybe I had watched one too many episodes of Mad Men or ordered one too many Prohibition-era cocktails, but I became romanced by an idea that has been sweeping the nation: retroism. Which is how I ended up driving a retro icon—the Airstream—up a highway that looks like the backdrop for a Hitchcock chase scene.
It took several weeks of planning, but when we picked up the Airstream at a lot in Los Angeles, it gleamed at us like an airplane fuselage. As I opened the floor-to-ceiling drawers, turned on the saucer-size gas burners, and peeked in the tiny shower (you could stand up in it!), the effect was like being in a shiny, ergonomic playhouse designed by NASA. I mean, this thing was cool.
Man Skills—my nickname for my husband, since he can change a flat and back our SUV into a space the size of a mailbox, all strengths I could tell were going to come in handy—seemed equally excited. He nodded and asked pertinent questions as our Airstream expert showed us how to dump our sewage tanks and walked us through the Manhattan Project of hitches.
Lessons absorbed, Man Skills took the wheel as we chugged up the entry ramp toward the freeway. The Ford F-250 Super Duty pulled the trailer as if it were a toaster, and I kept tabs on our side mirrors, which was easy because they're the size of large flat-screen TVs. A team dynamic emerged: I checked for blind spots and rogue cars. Man Skills did everything else as we headed toward our goal: Kirk Creek campground in Big Sur, the creek itself taking on Shangri-la status the more hours we logged behind the wheel.
Going native
I've heard that RVing has its own instant community. True to nature, at our first stop, in Ocean Mesa RV Resort near Santa Barbara, a friendly ex-trucker takes pity on us after our third attempt to back into our space goes awry. Rick is tall and built like a linebacker, and he tows a trailer twice as long as ours. We hang on his every word. After teaching us the hand signals for successful husband-and-wife reversing (a fist for stop, a beckoning motion for go), he invites us back to his RV, which could easily be mistaken for a large house. Before we leave, Rick and his wife, Susan, pile us up with firewood to put in front of our trailer tires ("You can't believe what I've seen rolling away").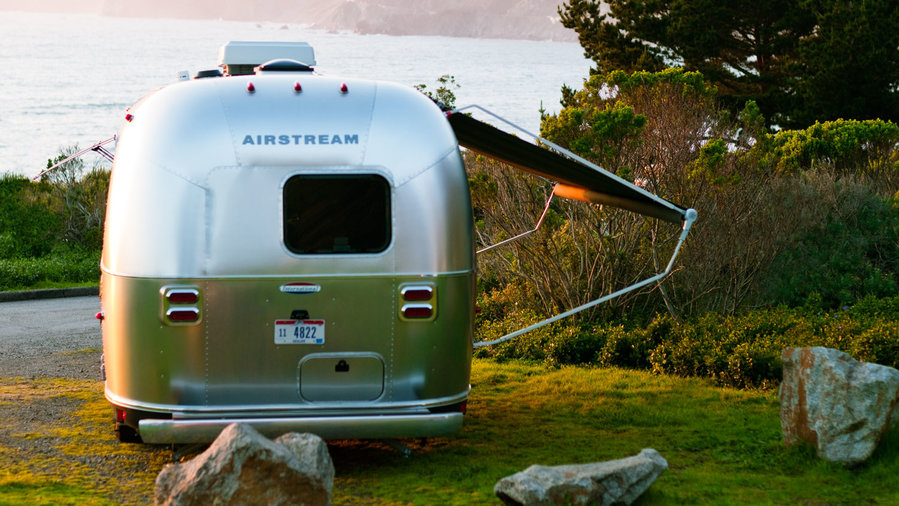 After we make sure our trailer won't end up in somebody's backyard, I cook a one-pot dinner of lemon chicken and wilted spinach, and we eat in the Airstream's retro dinette, feeling like passengers in a first-class train cabin circa 1955. The following morning, drinking coffee outside in the 8 a.m. quiet, I get the same nature rush I usually feel after a night of camping—except the coffee I'm drinking came from a percolator and I slept in a dry, mostly comfortable (albeit U-shaped) bed. I'm beginning to get the appeal of this genre of "camping."
Going all the way
It's time for me to bite the bullet and drive the hotel. I climb up in the seat, feeling the way I used to when I was a kid and my dad let me ride in front of him on his tractor. Man Skills advises me just to drive normally and trust that the trailer will follow. Hauling an Airstream is a bit like riding a bike for the first time: The sheer physics of it seems impossible when you're an onlooker. But once you're behind the wheel, you get the hang of it pretty quickly. (Plus, people slow down to check you out because, hey, the Airstream's a looker.) Even when the road narrows and kinks, I learn that if I stay in the middle of the lane, point the truck where I want to go, and forget about what's behind me, I'm fine.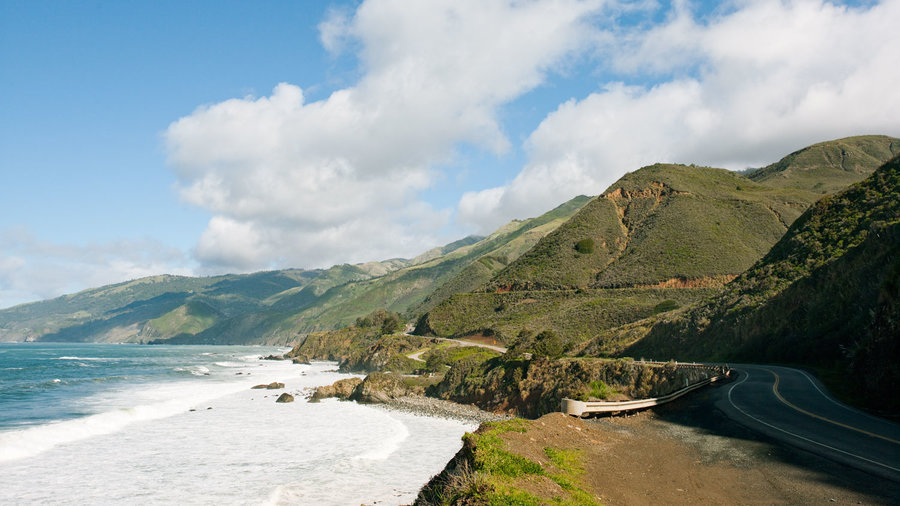 At least, this is the logic that carries us into our Highway 1 homestretch in Big Sur. We haven't cracked 15 mph, and the line of sports cars behind us is growing, but we resist the urge to pull off. Man Skills, who seems to have had several talks with Rick when I wasn't around, informs me that we need a pullout the size of a small runway to get on or off safely. No dice. After what seems like miles and miles without pullouts, the road opens and we see the campground. Victory! Beer! I need a cold one.
We back in perfectly on only our second, um, maybe third time, navigating between a picnic table and a large rock. Hotel successfully parked, we crack some beers and sit on the steps that lead to the screen door. The ocean glints in the late sun. We take a walk to the cliffs, where a family of seals flops out on a rock 100 feet below us. When I look back, there is something almost spiritual about seeing our little silver bullet parked in a spot that looks unchanged since the days of Lewis and Clark.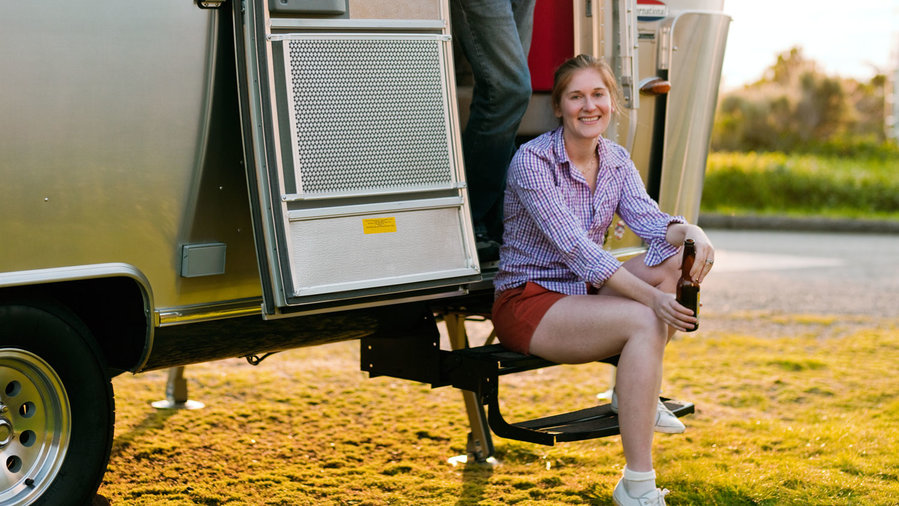 And that's when it clicks: The beauty of the Airstream, or any RV for that matter, is the sense of freedom it gives. Unlike road trips in a car, you're pulling your own little hotel, and if you want to take it deep into the wilderness, hey, you can.
Other people must feel the same way, because there are rigs at least 5 feet longer than ours here. We enjoy the heady camaraderie of waving to fellow RVers. Then Man Skills and I get to work, finding some good-size rocks to use as wheel blocks so the Airstream doesn't roll into the ocean. See? We're old hands already.
Road rules
Rule 1: Book an RV site in advance. Check out gocampingamerica.com and koa.com for RV park listings, or reserveamerica.com for national and state park sites. If you're desperate, many Walmarts allow dry camping (overnighting without power or water hookups) in their lots.
Rule 2: Arrive at least an hour before dark. You don't want to back into a tight space or empty your sewage tank at night. Trust me.
Rule 3: Listen closely to your fellow RVers—as a newbie, you'll need their advice. If you're not into small talk, RVing probably isn't for you.
Rule 4: Stay longer than a night to really experience your RV as a portable hotel. Just unhitch and explore the area.
Rule 5: Drive your big rig with confidence, and don't waffle when changing lanes. If you have a tow/haul transmission setting, enable it for a smoother ride.
Rule 6: Don't skimp on horsepower. Your tow vehicle needs to be able to pull the trailer easily—talk to the RV dealer, and research!
Our route
Leg 1: Start out at Ocean Mesa RV Resort ($90; three-night minimum during summer and holidays; 100 El Capitan Terrace Lane). This is on the pricier end of RV parks, but it has a pool and clean bathrooms and showers, plus all 80 sites have full hookups (aka water, power, and dumping stations) and ocean views. Bonus: It's across the street from El Capitan State Beach and 20 minutes north of Santa Barbara.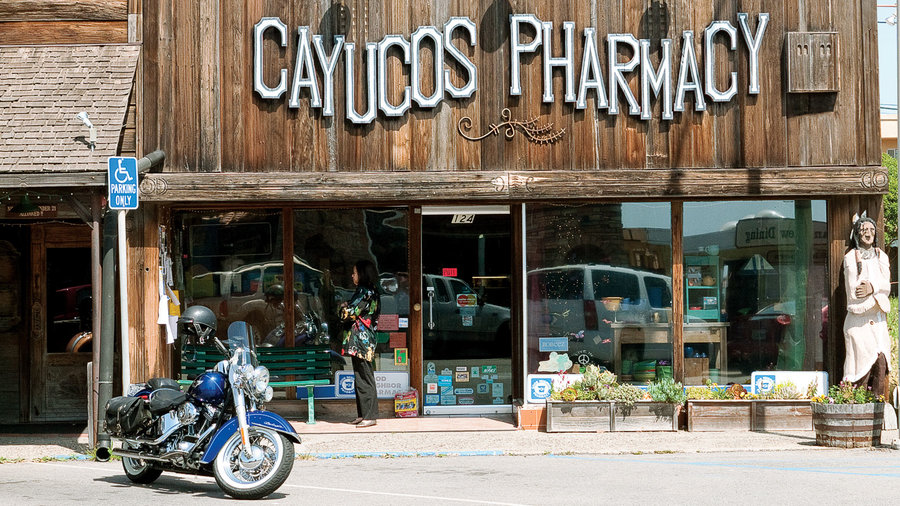 Leg 2: Check into Morro Dunes RV Park ($42 for full hookups; 1700 Embarcadero) in Morro Bay, two hours north of Santa Barbara. It's across the street from the ocean and a short walk to the bay, making up in location what it lacks in privacy (trailers are parked close together). Explore Cambria and Cayucos, a tiny gem of a surf town 10 minutes north. Have dinner there at Duckie's Chowder House ($; 55 Cayucos Dr.; 805/995-2245), which serves super-fresh fish tacos, steamer clams, and yes, chowder—all of which go well with the local ale.
Leg 3: It's only 64 miles from Morro Bay to Big Sur's Kirk Creek campground ($22, no hookups; two-night minimum), but it takes two hours with a trailer. (This road gets twisty and challenging; you can always make just a day trip with your tow vehicle.) Unhitch your trailer, and hit the trailhead directly across the road from Kirk Creek or explore Big Sur. Soak up the views at Ragged Point, about 25 minutes south; on your way back, you'll see pullouts for the Salmon Creek trailhead, which leads to two huge waterfalls. Lucia Lodge ($$$; 62400 Hwy. 1; 866/424-4787) serves good but pricey comfort food in a country inn–style setting.
Keep Reading: