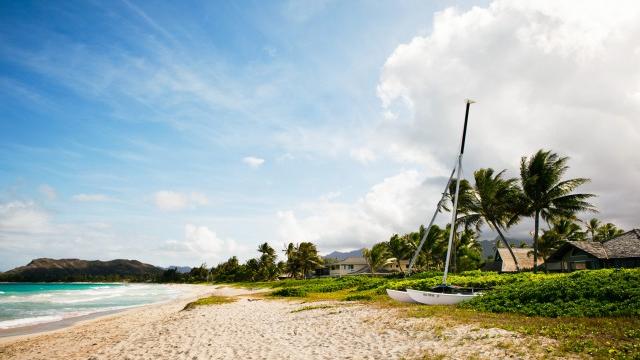 All the secret places to go in Oahu.
1. Kailua, Kalama, and Lanikai Beaches
Kailua Beach Park, toward Kailua Bay's southern end, regularly garners awards as one of Hawaii's top beaches, but nearby Kalama and Lanikai beaches are just as good—some say better. The calm surf at Kailua is made for kayaking and stand-up paddleboarding—you can rent gear at Kailua Sailboards & Kayaks and at Twogood Kayaks Hawaii ($; 450 Kawailoa Rd., Kailua; honolulu.gov/parks). For more bodysurfing-friendly waves, try Kalama (248 N. Kalaheo Ave.) or Lanikai (Mokulua Dr.). 
Two quiet, simply furnished rooms with private entrances and baths share a large covered lanai and pool (with view of Mt. Olomana) in this licensed B&B a few blocks from Kailua Beach. The property has Wi-Fi for guest use, so it isn't the kind of place where you have to drop off the grid entirely. (Though you certainly can if you want to.) $; 395 Auwinala Rd., Kailua; windward-oahu.com/papaya/papaya.htm.
3. ChadLou's Coffee & Tea Lounge
Grab a latte, admire custom skateboards, and hear local music at Sheila Lou and Matt Rosete's low-key coffeehouse. The coffee and tea are great, but save room for an ice cream sandwich. $; 45 Kihapai St., Kailua; www.chadlous.com.
4. Holo Holo Stop
Try laulau (taro-wrapped pork), lomi lomi salmon, and kulolo (sweet taro pudding) at the Holo Holo Stop food truck in Kane'ohe, which is only open on weekends. It doesn't get more Hawaiian. $; 47-528 Kamehameha Hwy., Kahaluu; 808-230-0062.
Head to open-air North Shore Tacos (formerly known as Surfin' Tacos) for tacos island-style: laden with fresh fish, cilantro, and the joint's Secret Surf Sauce. $; 54-296 Kamehameha Hwy., Hau'ula, www.north-shore-tacos.com.
After a drab drive, inspiration awaits at little-visited, yet lifeguarded Yokohama Beach, and along the moderately difficult 2.3-mile trail to scenic Ka'ena Point Natural Area Reserve. Early in the morning, dolphins can often be sighted near the mouth of Kaluakauila Stream. $; End of Highway 930, Makua; dlnr.hawaii.gov/dsp/.
7. FarmLovers Kaka'ako Farmers Market
The Kapi'olani Community College market has become mosh-pit popular. But the new, smaller market on the Ala Moana mall parking deck on Saturdays has some of the same vendors, like Ma'o Organic Farms and Naked Cow Dairy fresh-churned butter, as well as flowers to brighten your condo. $; 1050 Ala Moana Blvd., Honolulu;.facebook.com/kakaakofarmersmarket.
8. Uncle's Fish Market & Grill
Why put a tiki-motif seafood restaurant in an industrial neighborhood? Because it's less than a minute's walk to the Honolulu Fish Auction, where Uncle's gets its ahi, opah, mahimahi, and whatever else is fresh, six days a week. The best part is what they don't do: oversauce or overcook. Here, the fish is the star. $$$; 1135 N. Nimitz Hwy., Honolulu; www.unclesfishmarket.com.