Print Options:
Salmon with Bay, Orange, and Porcini


Yields
Serves 8 to 15


Total Time
1 hr
This aromatic and impressive recipe for grilling a whole salmon, created by John Fink, chef and proprietor of Bay Area event and catering company The Whole Beast, is big enough to feed a crowd. He uses fresh, homegrown bay leaves, but dried leaves work too.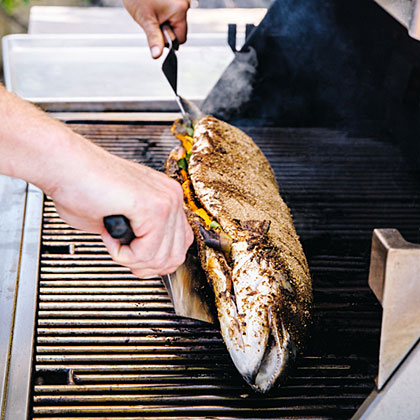 Photo: Thomas J. Story
1 whole king salmon, 7 to 11 lbs.
24 fresh bay leaves (Californian or Turkish/Mediterranean); or use dried bay leaves and soak in water 30 minutes
Step 1
1
Heat a grill to medium-low (300° to 350°). Trim salmon fins. To remove salmon scales and help skin crisp up when cooked, liberally sprinkle fish, including head and fins, with kosher salt. Let sit 10 minutes. Rub salt semi-roughly (wearing dish gloves if you like), then wipe off salt and scales with a paper towel.
Step 2
2
Generously sprinkle Porcini Rub inside fish cavity and all over outside. Stuff cavity with orange slices and bay.
Step 3
3
Clean cooking grate well with a wire brush. Using tongs, oil grate with a wad of oiled paper towels. Set fish toward back of grill with its belly away from you, on a diagonal if needed for fit.
Step 4
4
Cover grill; cook fish 5 minutes without moving it. Using two wide spatulas, roll fish from one side over the top of the fish (not the belly) to the other side. Every 10 minutes, roll fish in the opposite direction. For moist fish that's easy to separate from bones, don't cook past medium-rare (no longer soft when pressed with a finger), 25 minutes total for a 7-lb. fish, 35 minutes for an 11-lb. one.
Step 5
5
Have a helper hold a board larger than the fish at edge of grill. Using two wide spatulas, carefully transfer fish to board. Cover with foil and let rest 15 minutes; it will continue to cook. Lift off skin from one side and set aside. Slide fingers between flesh and bones to loosen flesh; transfer fish in sections to a platter. Turn fish over and repeat on other side. Discard bay and orange. Serve with pieces of crisp skin.
Nutrition Facts
Servings 0
---
Amount Per Serving

Calories 411

Calories from Fat 56

% Daily Value *

Total Fat 25g

39

%

Saturated Fat 4.1g

21

%

Cholesterol 132mg

44

%

Sodium 256mg

11

%

Total Carbohydrate 1.2g

1

%

Dietary Fiber 0.3g

2

%

Protein 44g

88

%
---
* Percent Daily Values are based on a 2,000 calorie diet. Your daily value may be higher or lower depending on your calorie needs.