Print Options:
Polenta Soufflé and Salad


Yields
Makes 4 servings

Notes: You can also bake these soufflés in 12 muffin cups (2 1/2 in. wide, 1/3-cup capacity); butter the cups and dust lightly with grated parmesan cheese (1/4 cup total), then fill cups, mounding batter slightly. Bake as directed (step 5). Ease the baked soufflés free with a thin knife, tip them out of the pan, and serve hot (3 per serving). If making up to 1 day ahead, let cool (in soufflé dishes or out of muffin cups); reheat several at a time in a microwave oven on full power (100%) until steaming, 1/2 to 1 minute for each batch.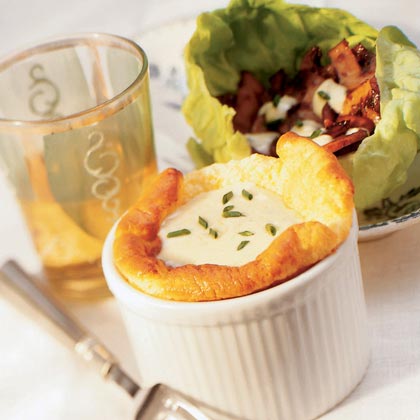 James Carrier
About 1/4 cup (1/8 lb.) butter or margarine
2 tablespoons grated parmesan cheese
1 1/2 teaspoons baking powder
About 8 cups rinsed, crisped butter lettuce leaves
2 tablespoons chopped fresh chives
Step 1
1
Butter 4 soufflé dishes (1 1/4- to 1 1/2-cup size) and dust with the parmesan cheese.
Step 2
2
In a 3- to 4-quart pan, mix milk with polenta and 3/4 teaspoon salt; add 1/4 cup butter, cut into chunks. Stir over medium-high heat until mixture boils, then reduce heat to medium and stir until polenta is thick enough to hold a clean path for a few seconds when spoon is drawn across bottom of pan, 8 to 10 minutes; remove from heat.
Step 3
3
Meanwhile, in a large bowl, with a mixer on high speed, whip egg whites until they hold distinct, moist peaks.
Step 4
4
Stir baking powder into polenta, then add egg yolks and stir to mix well. Add about 1/4 of the egg whites and stir to mix. Fold polenta mixture into remaining egg whites. Spoon batter equally into soufflé dishes. Set dishes slightly apart in a shallow 10- by 15-inch pan.
Step 5
5
Bake in 375° regular or convection oven until soufflés are well browned, 30 to 40 minutes. Set each on a plate and mound lettuce leaves beside the dish. Spoon warm mushroom dressing equally onto lettuce. Spoon cambozola fondue equally over soufflés and salads; sprinkle with chives. Add salt to taste.
Nutrition Facts
Servings 0
---
Amount Per Serving

Calories 700

Calories from Fat 59

% Daily Value *

Total Fat 46g

71

%

Saturated Fat 26g

130

%

Cholesterol 320mg

107

%

Sodium 2035mg

85

%

Total Carbohydrate 42g

15

%

Dietary Fiber 5.7g

23

%

Protein 31g

62

%
---
* Percent Daily Values are based on a 2,000 calorie diet. Your daily value may be higher or lower depending on your calorie needs.