Dutch Oven-Braised Beef and Summer Vegetables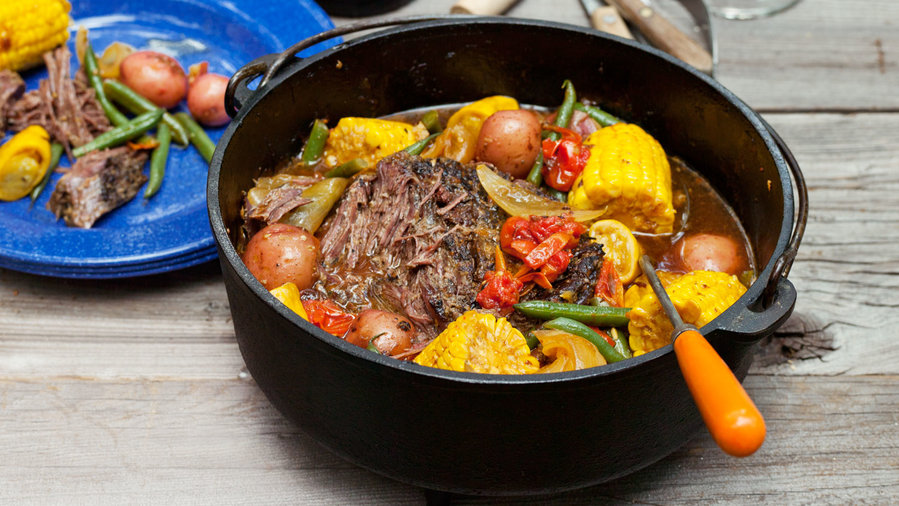 After a day of hiking or swimming, Adam Sappington of The Country Cat in Portland, likes the simplicity of cooking a one-pot meal like this for his wife and their two young sons. "Gramma" is the perfect tool for checking the meat's tenderness.
How to Make It
At Home
1
Prepare beef: In a bowl, combine garlic, rosemary, oil, 1 tsp. salt, and 1/2 tsp. pepper. Rub all over beef and pack in a resealable plastic bag. Chill up to 2 days, or freeze.
2
Prepare vegetables: Put tomatoes, corn, and onion in a resealable plastic bag and green beans and zucchini in another; chill up to 2 days. Don't chill potatoes.
In Camp
3
Set up a fire for top and bottom dutch-oven cooking. Put a 4- to 6-qt. cast-iron camp dutch oven in place, add butter, and melt. Add beef; cook until browned on underside, 10 minutes. Turn meat over, add 2 cups broth, cover, and arrange coals on top of pot. Add fuel now and every 30 minutes (see "Start Cooking," below) and cook 1 hour.
4
Turn meat over, add 1 cup broth, vegetables with corn, and the potatoes; cook, covered, 1 hour. Turn meat and corn, add beans and zucchini, and more broth if pot is getting dry; cook, covered, until meat is very tender, 15 to 30 minutes. Season with more salt and pepper to taste.
5
Prepare the fire. If you have a campfire going, move any large pieces of still-burning wood to the side and level out your hot coals to fit the size of the dutch oven. If the campground doesn't allow wood fires, burn 50 charcoal briquets till they're mostly gray, 10 to 15 minutes, and spread into an even layer the size of the dutch oven.
6
Set up the oven. For many recipes, you just set the dutch oven on top of the hot coals ("bottom heat cooking"). But there are times when you'll need to heat both the top and bottom of the oven. Just scrape about half the coals to the side and arrange the rest in a circle the size of the dutch oven's outer edge. Set the oven on top of the circle of coals, then pile the rest of the coals on top of the lid.
7
Start cooking. Lift the dutch-oven lid occasionally to check the food and temperature. To decrease the heat, scrape away some fuel. To increase the heat, or to cook longer than 45 minutes, add 6 to 10 new briquets or more wood embers (from that still-burning wood you moved to the side of your firepit) every 30 minutes.
8
Note: Nutritional analysis is per serving.
Search All of Sunset's Recipes