Sequined Nuns, Whale-Saving Gin, and 7 Other Things You Should See & Do This Week
Shelby Scudder of Palmar Goods
The West is a big, big place, and every week our staff is all over it, digging up the shops and restaurants, beaches and trails, performances and, well, phenomena that make the region so vibrant. Here's the Best of the West this week
Soccer? Or Football? Sausage! Or Seafood!
"To celebrate the first anniversary of the opening of the Banc of California stadium, I finally made it to a Los Angeles Football Club game, lured by the springtime bliss of watching a soccer match in the first open-air stadium to be built here since 1962. And, to be honest, by the food: Stalls selling Korean fried chicken from the roving Seoul Sausage truck, the 4×4 grilled cheese from K-town's Beer Belly, brisket from Compton's Bludso's, and $17 (ouch!) micheladas ring the stunning $350 million stadium. I went the healthy-ish route and got the quite spicy shrimp ceviche from Inglewood's Coni'Seafood at the attached food hall The Fields LA. Pro tip: At the Fields, the lines are way shorter and they've got a full bar where you can call your liquor. Gooooaaaaaaaal!" —Hugh Garvey, food editor
Indulge, Perpetually
https://www.instagram.com/p/BvFke1VhJ3O/
"For 40 years now, The Sisters of Perpetual Indulgence, a troupe of drag queens who dress up as nuns (with amazing makeup and sequins, natch), have been putting on a Hunky Jesus Contest on Easter Sunday. It's quite the spectacle. Not the most family-friendly event, but so San Francisco." —Jessica Mordo, deputy digital director
Hand-Dyed Totes? Totes!
"In her sunny Los Angeles backyard studio, former celebrity stylist Shelby Scudder hand-dyes cotton canvases one at a time with a range of techniques including shibori, bundle, and dip-dye. She then pairs them with veg tan leather and gold hardware to create beautiful tote bags—it's called Palmar Goods . Scudder is serious about her thoughtful and earth-conscious ethos by using only nontoxic vegetable dyes." —Kelsey Maloney, editorial assistant
Eggs, but Smaller and Cuter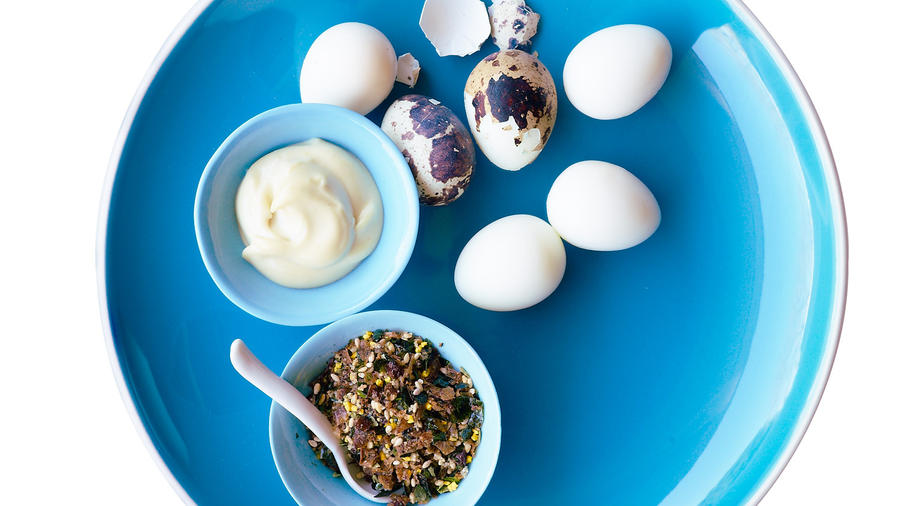 "I just tried cooking quail eggs for the first time! Taste-wise, they aren't much different from chicken eggs, but their small size makes them perfect for deviled egg bites or fried atop crostini. Instead of cracking as you would a chicken egg, puncture the thick membrane with a sharp knife to avoid a mess of eggshell." —Zoe Gutterman, associate digital producer
A Brand-New Old Fashioned
"Top Chef fan favorite Sheldon Simeon's Filipino Hawaiian fusion dishes at his new restaurant Lineage deserve the hype, especially the shareable crispy pata. But it's the ambitious cocktail program that keeps me returning. Every drink tells a story. The Makule Kiawe, for example, is an ode to the native kiawe, a species of mesquite tree; the delicious riff on a classic Old Fashioned is made with kiawe bean gum and smoked with kiawe wood." —Jen Murphy, executive editor
A Quick Dose of Quirk
"On the way to Arrowhead or Big Bear, Hearth & Sage General Store is a must-stop shop in Crestline, California, that sparked my imagination when I visited last week. Each shelf or table is curated with interesting finds—from soaps and creams to fun games, leather goods, blankets, books, and wall art." —Thad Orr, garden editor
Mother's Ruin, Whales' Savior
"I just got back from a whale-watching trip to Baja California Sur with Oceana and Gray Whale Gin, an award-winning, California-based distiller that's raising awareness about the plight of these gentle giants, who routinely die in gillnets during their yearly migration along the West Coast. All of the botanicals used in the spirit are hand-foraged along the path of the whale, from Baja limes to kombu seaweed from Mendocino. A portion of their proceeds go directly to Oceana." —Kendra Poppy, audience growth editor
"S" Marks the Spot
"When I was a (slightly eccentric) child growing up on the East Coast, it was always a big deal to come across a penny with an 'S' below the date. That letter meant that the coin had been passed hand-by-hand all the way across the country from its birthplace at the San Francisco mint. The two other major mints in the United States—in Denver, which marks its coins with a 'D,' and Philadelphia, which uses no mint mark—are open to the public for tours. An older San Francisco mint building (coins have been minted in the City by the Bay since 1854) can sometimes be toured. But the current functioning mint, built in 1937, sits fortress-like on a bluff above Market Street. It's basically the Willy Wonka factory of numismatics. I may never set foot inside, but finding one of the mint's products in my change still makes me feel like I've found a tiny treasure—one with a link to San Francisco's early history." —Nicole Clausing, producer
Digging Deep in Tucson
"A weekend trip to Tucson led me to Mercado San Agustin Annex, an outdoor shopping complex where boutiques are housed in modern shipping containers. I'm selfishly wary about letting the secret out to the masses about this place. (Tucsonans, forgive me in advance.) Each store offers its own Arizona-fied spin on everyday basics—minimalist linen clothing at Avenue Boutique, desert-inspired skincare products at DIRT, and hip products to up your wellness game at NOW or NEVER. TL; DR: Get here now, not never." —Maya Wong, assistant editor
Keep Reading: