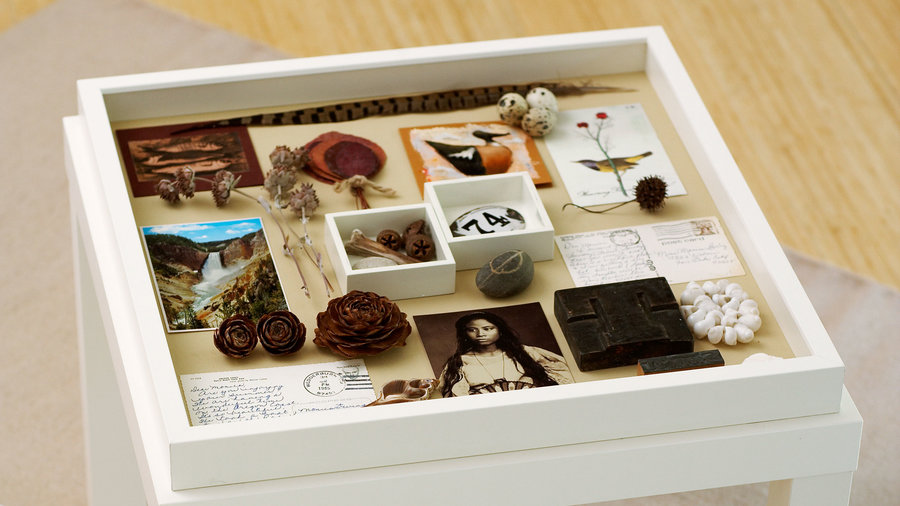 Turn a basic side table and a picture frame into a living-room accent worth remembering
DIRECTIONS
Step 1: Choose a picture frame that's at least 1¾ inches deep and just smaller than your tabletop, preferably of the same color and material. Replace glass with abrasion-resistant plastic.
Step 2: Center the frame on your table. With a pencil, mark where the corners of the frame meet the tabletop. Set frame aside.
Step 3: Carefully adhere one sticky-back piece of Velcro (rougher half) a few inches inside each marked corner on the tabletop.
Step 4: Adhere the opposing strips at corresponding points on the frame backing.
Step 5: Remove backing and set frame aside. Secure mementos or seasonal elements to backing with glue dots or tape.
Step 6: Carefully resecure backing into frame (keeping frame right side up) and position onto tabletop so Velcro strips align. Use plastic cleaner or dish soap with cotton towels to clean frame top as needed.
Resources: Ribba extra-deep 19-inch square frame ($20) and Lack side table ($13) from Ikea (800/434-4532). Velcro sticky-back strips available at hardware stores. Abrasion-resistant ⅛-inch plastic for tabletop from TAP Plastics ($12 per square foot; 800/246-5055).
Keep Reading: