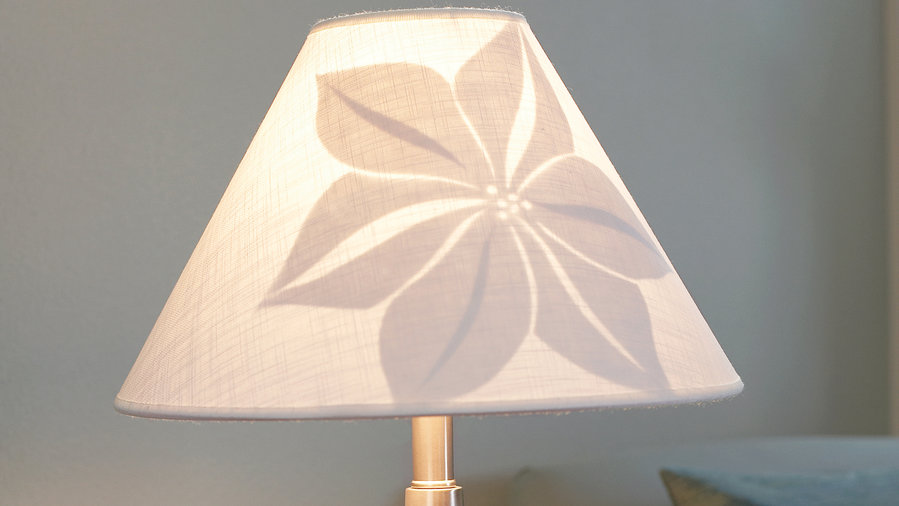 Design a lampshade with a secret bloom that stays hidden till you switch on the light
A plain lampshade becomes an early breath of spring when you give it a stealth blossom. The surprise: a paper flower on the inside lining that's visible only when the lamp is turned on.
Materials and directions
TIME: About an hour
COST: About $25 (not including lamp base)
• Template (use your own design or download ours here)
• White lampshade
• Cutting mat or thick cardboard
• Medium-weight white rice paper (see note; available at art-supply stores)
• Craft knife
• Repositionable spray adhesive (such as 3M Spray Mount Artist's Adhesive; available at art-supply stores)
Note: Before cutting your design, test a swatch of the rice paper against your lampshade. The paper should be opaque enough to leave a visible shadow.
1. Adjust the design to fit your shade. It's okay if you need to trim the tip from a top or bottom petal ― a little cropping adds drama.
2. Cut out the design. Lay down a cutting mat or cardboard, then tape your template to a sheet of rice paper. Using a craft knife, cut out your flower on top of the cardboard or mat.
3. Alternate the design's light and dark stripes. Cut out a strip from the middle of every other petal, following the template. Turn over the cutout strips, spray with adhesive, and stick them to the remaining plain petals.
4. Apply adhesive to the design. First, decide where on the shade you want to place the blossom; avoid the seam. Then spray adhesive to the flower, being sure to cover the entire surface. If the adhesive makes the paper curl, you can hold it down with a chopstick or pencil.
5. Stick the design on the lampshade. Lift your adhesive-coated flower and place it sticky side down on the lampshade's liner. (It may help to hold the shade on your lap with the base open toward you.) Position the center first, then each petal in turn, adjusting to avoid overlaps. When the flower is aligned to your liking, press it firmly to secure it and remove any wrinkles or air pockets. Then attach the shade to your lamp base (we used a brushed-steel base; $40 at Target). As night or rainfall darkens the room, turn on your light for a happy reminder: More blooms are on the way. 
More:  20 fun DIY projects
Keep Reading: