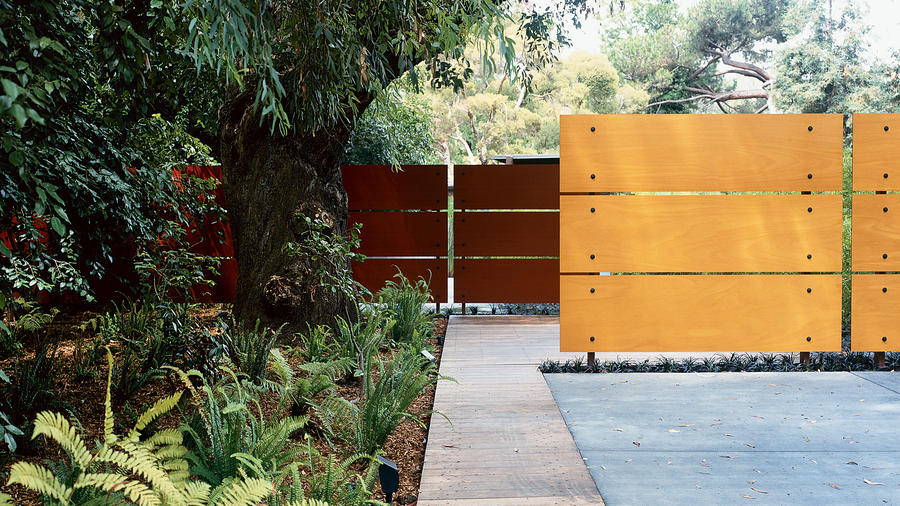 These structures create privacy with artful elegance
A fence can be far from neighborly. After all, it is a barrier between house and street. At this home in Southern California, a series of fences takes a different approach: it provides privacy while putting on a pretty face for neighbors and passersby.
Simple screens
Architect Alejandro Ortiz used to have a front yard paved in asphalt. "It was good for parking the car and playing basketball, but that's about it," he says.
Ortiz set out to design a protected entry without making the house seem like a fortress from the street. He found inspiration in the movie The Piano. "In the movie, a narrow wooden walkway leads through the forest to the house," he says. "It gives a sense of mystery and discovery."
He re-created the effect with plantings and staggered screenlike fences made of Bakelite and a thin veneer of Parklex 1000 wood composite (www.fincolorply.com). To enter the house from the driveway, visitors follow a boardwalk that is offset by two fences partway down the path. "The screens give us privacy and a sense of entry," Ortiz says. "They create a friendlier barrier. This makes the house feel much more welcoming."
Beds of river rock and tall bamboo replaced the asphalt. The lush plantings reinforce the forestlike atmosphere. The only thing the family lost was the basketball court. "It's okay," laughs Ortiz. "We just go to the park down the street."
Design: Alejandro Ortiz, AlejandroOrtiz Architects, Culver City, CA (310/313-4611) (omega)
Keep Reading: