Ask the Expert: Sonu Mathew on Paint and Color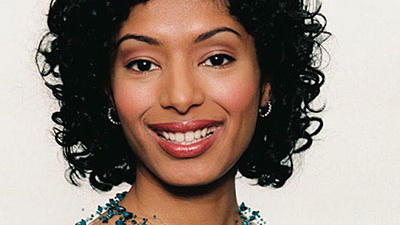 We sat down with Sonu Mathew, Senior Interior Designer for Benjamin Moore, to get her expert advice on your color dilemmas.
We sat down with Sonu Mathew, Senior Interior Designer for Benjamin Moore and bona fide color guru, to get her expert advice on your color dilemmas.
I always get paralyzed when I'm standing in front of the wall of paint chips at the store. I usually know I want a pretty blue or another family of colors, but how do I zero in on which of the many options would work best for me? -Jillian F., San Francisco, CA
Come prepared before you even get to the paint store. Look at your favorite magazines or online resources for images that really excite you.  Try to hone in on a mood you're after so your color choices will fit within that theme at the store.  Benjamin Moore has a great Facebook page and Pinterest boards that offer countless ideas to get you started, too.   Once you're at the store, armed with all your color concepts, pull about 3-5 color options for each color family you are considering. Take your samples home and look at them in your own space and within the context of your existing furnishings, accents, and lighting to make your final choices.  And remember, choosing a color is not enough.  You should also research the right type of paint (What surface are you painting on? Do you need durability?  Is mold/mildew resistance a concern?  Is low-VOC important to you?) for the project and the finish you'd like to see (matte, eggshell, satin, semi-gloss, high-gloss).
A friend of mine recently painted her dining room and said she had the clerk "cut the wall color with white" to get a lighter hue for the ceiling. How does that work and what's the benefit? -Katie G., Portland, OR
Using the same color on the walls and ceilings generally creates low contrast and allows your eye to move seamlessly throughout the space, which makes the space feel more infinite and large.  It's a good trick in a room with very low ceilings, too.  But exactly the same color can quickly get boring.  Cutting the color with white is a good way to have a similar color on the ceiling to create the effect of a smooth transition from wall to ceiling while adding a little interest through color variation.  I prefer cutting the color in half with white to achieve a sophisticated and interesting monochromatic look.
I keep hearing that jewel tones—which I love—are coming back into style. Is there a way to choose a long-lasting version of a trendy color? -Christina H., Phoenix, AZ
From deep ambers to bright aquamarine, jewel tones can come in many hues.  Find the family of color that suits your style.  Use it in full force or sparingly in the details, depending on how much you love the color.  You can paint the back of a bookcase, just trim and molding, or even pieces of furniture in colors you're not sure you want to really focus on.  Or, choose to envelope an entire space in a jewel tone you can't get enough of.  Regardless of trend, I find when a client is passionate about a color, it stands the test of time.
Sonu Mathew, Senior Interior Designer for Benjamin Moore, has a celebratory approach to design and color: They offer a path to redefine, reinvent, and rejuvenate not only an environment, but its inhabitants.
Sonu cultivated her affinity for the use of color to express design while designing for brands such as the Four Seasons, Intercontinental, Benchmark Hospitality and Starwood. Her repertoire expanded with corporate design experience while working with Gensler in Atlanta and Northern Virginia/DC.  Over the last decade with Benjamin Moore, Sonu has acted as the creative force behind company's publications geared towards architects and designers, has collaborated with design firms to develop innovative concepts for Benjamin Moore's designer showrooms in New York, San Francisco, and Chicago, and continues to be an integral part of researching new color trends for the company. As a member of Benjamin Moore's North American Color Innovation & Design Team, Sonu works to uncover emerging trends in color and design movements.  Sonu's unique approach involves blending many influences including fashion, international travel, socioeconomic levers, and technology to shape her perspective of color and design.            Sonu holds a degree in Interior Design from the accredited University of Texas in Austin and is an accredited Interior Designer through NCIDQ.
Keep Reading: