Ask the Expert: Erika Woelfel on Choosing Paint Colors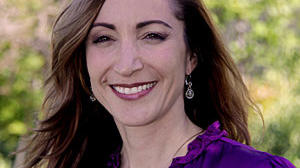 We asked Erika Woelfel, director of color at Behr Paints, for her expert advice on your paint color dilemmas.
We asked Erika Woelfel, director of color at Behr Paints, for her expert advice on your paint color dilemmas.
Everywhere I look, I see gray. But whenever I try to choose a gray for my living room, it comes out muddy or too purple or too blue. How do I choose one that's just gray? —Julie Grove, Monterey, CA
Like white, grays often carry the undertone of another color. You may have to look at several different swatches before you find one that suits your taste and style just perfectly. Some grays fall on the cool side when they have a blue undertone, and sometimes they fall on the warm side when they have hints of brown or yellow in the formula. Cooler varieties like stone or steel gray tend to feel more relaxed and serene. Warmer grays like taupe or driftwood colors are cozy and inviting. Make sure you test your paint color in your own home environment because lighting can make a difference in how it appears. The other colors you have in your room will also make a difference in how the wall color appears.
I just bought my first house that's almost perfect—except for all the incredibly saturated colors on every wall! I'm talking dark red, bright jungle green, and raging yellows. How on earth can I repaint (white) without applying at least ten coats? — Sarah Bernard, Portland, OR
I would invite you to try Behr's best performing paint product yet – Marquee Interior! Each of its 372 colors are specially formulated for exceptional performance. There is a section of 62 light colors that were tested to cover dark and bright colors in one coat. Find more info on choosing the right paint at Behr.com.
I want to add some color to my house in smaller ways, but I'm not a huge fan of accent walls. Should I paint furniture? Or my ceiling? What's the new accent wall? —Natalie Wallace, Redwood City, CA
The new accent wall is actually underfoot! Tired of carpet or those worn-out hardwoods? Painted floors are a hot new trend. Behr offers a wide variety of hues in its BEHR PREMIUM PLUS Porch and Floor Paint that will help you make a colorful statement. The nice thing about painted floors is that furniture and rugs can limit the exposure of color you see. A strong color on the floor may not be as overwhelming as it might be on a wall. Sound like a fun idea? A strong color like red or green on the floor will bring a glow to a room that doesn't get much light. A dark floor color will add more depth, and a light color on the floor helps small rooms feel bigger.
If painted floors aren't your thing, try adding a color like hot pink in a small guest bathroom. Color is also a fun surprise in closets–try a bold purple or sapphire blue to lift your spirits every time you open the door to take out your favorite shoes or jacket. Speaking of doors: Painted doors can also be a small way to bring bold color into a room without having to go big.
Keep Reading: