How to get a live-edge barn door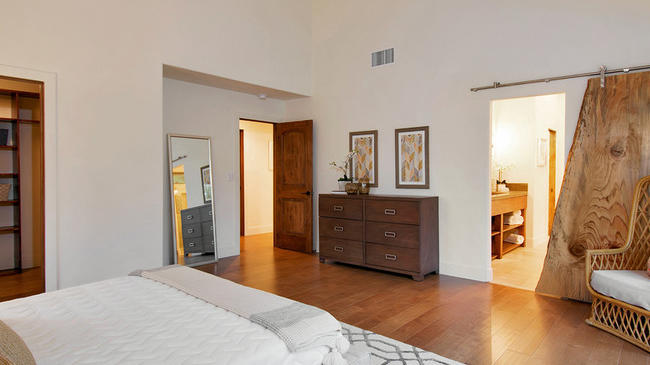 Introduce space-saving natural beauty with these tips on selecting and installing a live-edge slab barn door.
Introduce space-saving natural beauty with these tips on selecting and installing a live-edge slab door.
Given creative freedom to design a new spec home, Kim Gatto looked for an interesting way to bring a natural element into the master bedroom. She turned her attention to a doorway leading to the bathroom. There, she came up with an idea to present a modern twist on a barn door by using a large live-edge wood slab with imperfections and personality.
Gatto wanted to avoid going too rustic with the wood, so she paired the door with a chrome track and decided not to use handle hardware for a clean, contemporary look. "That way, when closed and looking at it from in the room, it would look like an interesting art piece, not just a door," she says.
Related: How to Make a Barn Door Work in Any Home
Here's how you can create a similar door:1. To begin, remove all casing. "The opening should not have a jamb or casing on it," Gatto says. "Just a flush opening is best for a clean look." Next, patch and paint the opening. Then,measure the existing door opening.
2. Select and buy a barn door track set. Gatto used TCBunny's stainless steel system.
3. Next, find a live-edge wood slab. Gatto got hers from JNilson Designs in Oceanside, California, but you can look for lumberyards and millworkers in your area that specialize in live-edge lumber.It's important to know the minimum and maximum width, height and thickness of the piece you're looking for, Gatto says. This is where your doorway measurements will come in handy.
Tips for Selecting a SlabWidth. "Live-edge pieces vary, with lots of movement in the width, so you want to verify the minimum width is able to cover the width of the door opening and have a 2- to 4-inch overhang at the slimmest part so there are no gaps when closed," Gatto says.
In other words, if your door opening is 30 inches across, you want to find a live-edge slab that's 34 inches across at its narrowest part. So for Gatto's slab shown here, that was near the top third portion. That way, when the door is slid shut, the slab completely covers the opening.
You'll also want to make sure that the widest part doesn't run into anything, such as a nearby wall. "Check the length of the wall to make sure you have enough length to open the door all the way for the opening," she says.
Height. "This is important to know to make sure the piece of wood comes all the way down to the floor to meet up with the glider," Gatto says.For this project, Gatto hung her barn door track 5 inches above the door opening to accommodate her slab, which, after cut to size, came out to 7 feet, 2 inches tall. "It's always best to wait and cut the door height on-site so you can verify the wood hits right above the floor," she says.
Thickness. You will need to know what thickness of wood will work with the track you've selected. In this case, Gatto brought the track specifications to the millworker where she bought the slab, and had the slab planed and refinished at an additional fee to fit the track. "Bring the specifications with you of the track you are using while shopping for your wood piece to verify they are compatible," she says.
Species. When selecting the species of wood, "ask for a lighter-weight wood to verify your track can support the weight," Gatto says. "Again, refer to the track you have selected for optimal weight."Lightweight species include ash and alder, which Gatto used. It's best to ask a professional at your lumberyard what will work best for your needs and track system.
Hardware and stain. Depending on your preference and the style of your home, you can choose whether to stain and finish the door, and whether to add hand pulls and locks. In her project, Gatto wanted a natural, modern look, so she applied a clear coat on the wood to bring out its natural beauty.
"The piece can be finished from the vendor prior to bringing it on-site," Gatto says. "Or, if you have a crew, they can finish it on-site. Depending on the wood quality and how much sanding and finishing is needed, you can do it prior to installing or after. It is easiest to do it on a flat surface prior to installing, though. Hand pulls are done after the wood is installed. In my case, I did not use hand pulls."
Related: DIY: How to Transform an Ugly Door
4. Finally, install your door track first, about 4 to 5 inches above the opening, depending on the track and track wheels you purchase. "Most kits will come with recommendations on heights for that unit," Gattos says. Refer to the manufacturer's instructions or hire someone to install the track.5. Install the track pieces to your slab, according to the instructions, hang your door on the track (ask for help) and voilà! You've got your own live-edge sliding barn door.
Here's a look at a portion of the door from inside the master bathroom. There's no lock on the door because this is a private master bedroom and the toilet is in its own water closet.Gatto says you can add a hook and eye-latch system on the inside if you want a lockable option, but that can take away from the clean look of the door. "I recommend using these doors for a fun pantry door or for a private bathroom," she says.
Cost
Raw live-edge wood slab: $850Barn door track: $90Labor: Gatto had the construction crew that built the home install the door, but she says this could be a DIY project or something you could hire someone to do for a small fee.Total cost: $1,000 to $1,500, including labor but not including the cost of cutting and finishing the slab.
Keep Reading: