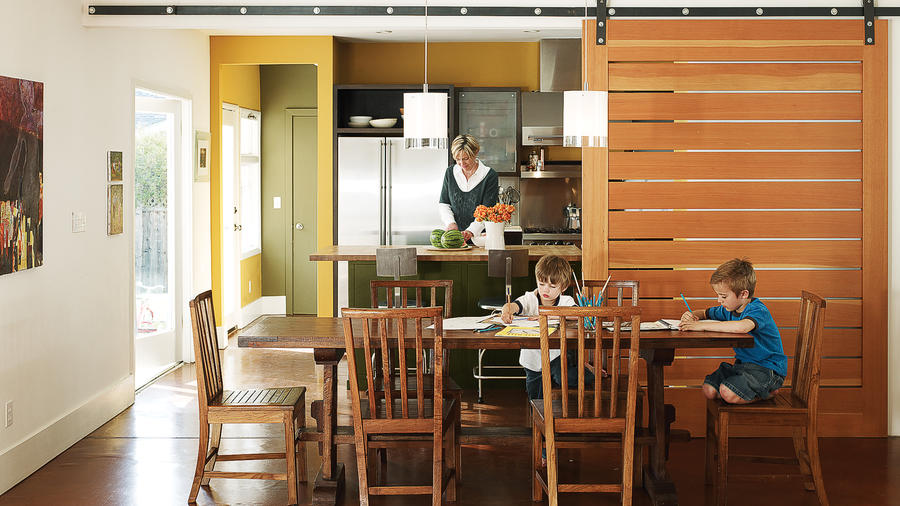 See how a designer combines the best of old and new for an inviting contemporary look
A modern farmhouse is what designer Lara Dutto had in mind when she remodeled her kitchen. "The house was really run down when we found it, but we recognized a simple, rural quality that we liked," she says. Using that mood as inspiration, Dutto and her husband took on the task of breathing life back into their 60-year-old fixer in Orinda, California ― beginning with the kitchen, the home's central hub.
More amazing Before and Afters
The first priority was to create a place for the family to hang out, since the cramped kitchen was separated from the adjoining living areas. By removing the wall that closed off the room from the rest of the house, Dutto gained 5 feet of living space and united the layout.
After opening up the kitchen, Dutto devised a means of closing it off when needed. "From the kitchen window, you can see goats and a big barn up the hill," she says. "That inspired the sliding barn door." Used to hide the kitchen when the Duttos host the occasional formal dinner, the door also serves an unexpected purpose ― during the holidays, the family hangs greeting cards on the slats. Dutto wanted a bronze track but knew it would be beyond their budget; instead, she bought off-the-shelf track hardware, then treated it to feel warmer and less industrial.
The kitchen's design encourages family interaction. "We wanted a place for our boys to belly up to the bar," Dutto says. So she created a butcher-block work island that doubles as a kid-friendly spot for breakfast and chats with Mom.
A local cabinetmaker built the island and the modern, ebony-stained white oak cabinetry. Highly reflective hardware and appliances add to the contemporary feel. For the counters and 3-foot-tall back-splash, Dutto chose honed statuary vein marble, in tribute to the couple's time spent living in Italy. "I like to weave together contrasting elements: honed surfaces against polished, or light materials against dark ones," she says. Using natural light and organic materials also blends the essence of the outdoors with the indoors. Yellow paint was chosen "just because it makes us feel good," Dutto says. The green paint provides an earthy balance, and the concrete floors stained terra-cotta (and installed over a radiant heating system) create a lived-in look. "In the winter, the kids like to lie right on the concrete ― it looks and feels so warm," she says. "It's a really happy kitchen."
Next: Tips for a phased remodel 
Dutto's tips for a phased remodel
Break down each step
Assess what to do now and what to do later. "For every design decision, we had phase one and phase two," Dutto says.
Design for future use
The longterm goal for the Dutto kitchen is to expand it as the house remodel continues. A generous overhang on the island was planned to eventually accommodate more seating.
Buy now for later
Dutto got a huge discount on a scratched Viking range floor model and kept it in storage for a year. "We were holding on to it for our 'someday' kitchen."
Be flexible
The Duttos' remodel plans have changed since they moved in two years ago. "My advice is to move in first and see how you use the space, so you'll know what you really want," she says.
Design: Lara C. Dutto, D-Cubed, Emeryville, CA (510/557-1484).
Resources: Paint selection and consultation by Mari Tischenko (925/285-8165). Glen Ridge Gold paint (on kitchen walls; item 301) and Jade Romanesque paint (on island; item 476) from Benjamin Moore (800/344-0400). Barn-door track from Crown Industrial (650/952-5150). Quartersawn white oak-veneer cabinets with custom stain by Lloyd's Custom Woodwork (925/680-6600). John Boos maple butcher-block counter with natural oil finish on island from Sullivan Counter Tops (510/652-2337). Wüsthof aluminum knife magnet bar from Sur La Table ($70; 800/243-0852).
Keep Reading: