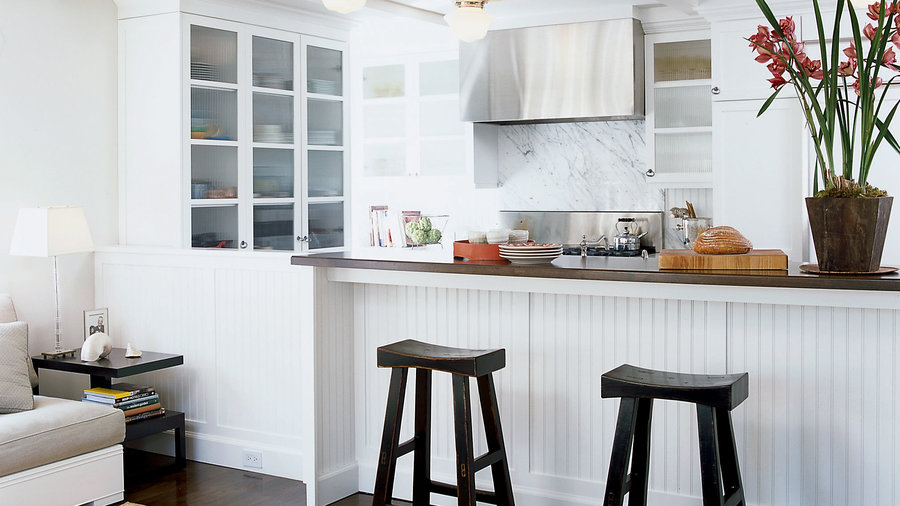 An old house is revived inside and outside
The remodel of this 1926 Tudor-style cottage in Los Angeles would have given the most stouthearted remodeling junkie pause.
"The house had been unoccupied for seven years," says architect-owner William Hefner. "The roof was leaking, and it had termites." But the house was on a nice lot in a good neighborhood, and there was hidden potential.
Renovating was a balancing act: Hefner and his wife, Kazuko Hoshino, an interior designer, wanted to keep the house's vintage spirit, while updating its function. They added 250 square feet at the rear to create a master suite, installed larger windows, moved two walls, and relocated the kitchen/living area.
"When this house was built, the kitchen was only a place to work, so it was a small, dark room," says Hefner. "We wanted a kitchen open to a family room, so we put it at the back of the house. The dining room is now where the kitchen used to be."
Before the remodel, the house lacked a hallway; you had to pass through rooms to get to others. By moving a wall, Hefner was able to create a corridor and allow a person standing in the entryway to see through to the backyard.
Grey Crawford
A new low wall frames the front yard; at the rear, the expanded master bedroom and new kitchen deck overlook the patio.
"It added privacy for the adjacent rooms, plus space and light," says Hefner.The exterior transformation was subtle. "Like most Tudors, this house had long eaves," says Hefner.
"We clipped them off because they were out of scale with the rest of the house and they made the interior dark." The effect was like a bang trim: You can see more of the house's face.
The couple also added a low entry wall ― stuccoed and painted to match the walls of the house ― and a meandering path to separate the yard from the street and from the adjacent driveway.
"Before, it felt like you could jump from the street to the house," says Hefner.
At the rear of the house, they enlarged the master bedroom and replaced an ugly, warped deck with more elegant deck stairs, creating an easier transition to the backyard.
DESIGN:  William Hefner Architecture & Interiors, Los Angeles
Keep Reading: