Aging Garage Becomes Stylish Studio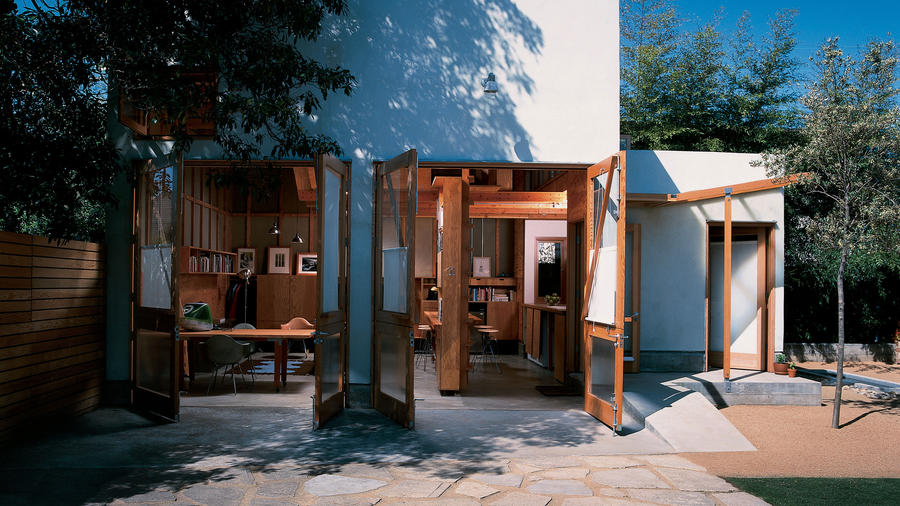 See how a husband-and-wife design team found all the extra space they needed in their garage
Before you add square footage to your main house ― with the expense and complication that new construction always brings ― take another look at your garage. It may have untapped potential.
That's what a husband-and-wife designer–landscape architect team discovered when they gave their old detached two-car garage a new role as an office and studio.
The remodel enlarged the building to include a bathroom, a loft, and a small roof deck, so it can double as guest quarters. It can also still function as a garage thanks to a set of glass-paneled Dutch doors opening on the plywood-paneled office side.
The spare, contemporary aesthetic ― the doors, simple exposed-wood framing, visible pipes, and industrial-style lighting ― kept costs down.
As with any remodel, a garage conversion requires a building permit and must meet local codes. For instance, most communities mandate some form of offstreet parking. Check with local building officials before undertaking a garage transformation.
Why it works
Warm materials: Exposed wood framing and plywood cabinetry lend rustic character.
Separate spaces: Partitions divide the garage into areas for work and informal dining.
Flexible doors: Glass-paneled Dutch doors flood the room with light.
Design John Jennings and Sasha Tarnopolsky, Dry Design, Los Angeles (323/954-9084, ext. 21) 
Keep Reading: