Stylish Cabin in the Woods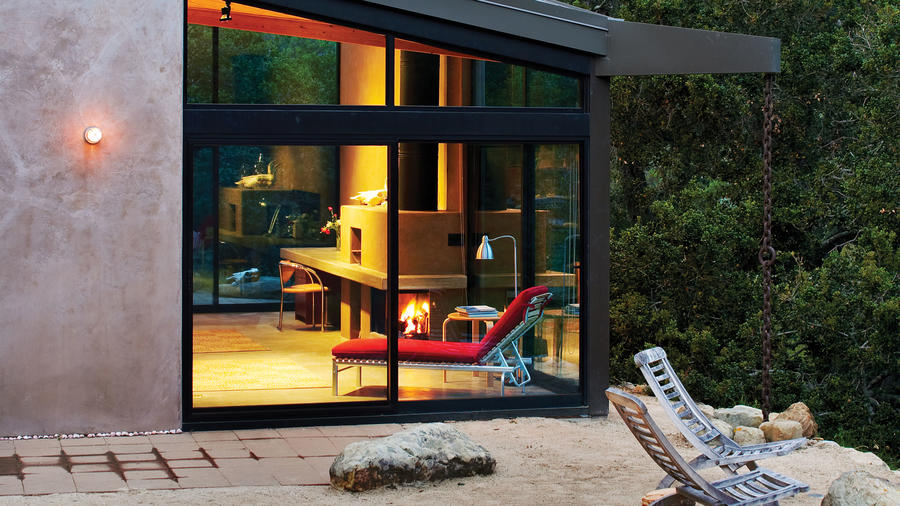 800-square-foot retreat gets owners back to nature
Long before he went to architecture school, Andy Neumann was a champion surfer. So it's no wonder he refers to his 800-square-foot, solar-powered retreat as "the surf shack."
The strongly geometric cube-shaped cabin, located 2 miles up a canyon in California's Central Coast, packs a lot of design ideas―from storage walls to a hearth-desk―into a compact space overlooking a creek in rolling, oak-studded ranchland.
"I had the luxury of camping here for three years and taking my time to get a bead on my design," says Andy, who shares the retreat with his wife, Yvonne. "I knew I wanted to experience the outdoors while being sheltered in an uncomplicated way."
The kitchen/living/dining area and enclosed bathroom occupy the cube; a bedroom is attached to one side like a saddlebag. The shedlike main roof is actually two triangular planes forming a trough that echoes the canyon slope and channels runoff to a salvaged anchor chain. Sliding window walls on four sides and at a corner of the living area open the house to the landscape.
The remote site is in a high fire-risk zone, so Andy used noncombustive building materials (including 10-inch-thick plaster-and-metal lath walls that are the color of the earth) and eliminated roof overhangs, a common transfer point for wildfires. Electric power is generated by solar panels on top of the south-facing detached, one-car garage.
Large-capacity military-surplus batteries are used to store the energy, eliminating the need for a generator. The cabin's mechanical systems are in the garage, which keeps the main living quarters tranquil. Propane powers a very quiet refrigerator and stove, and heats the water for the radiant heating in the poured-concrete floors.
The layout of the cabin exemplifies Andy's pared-down aesthetic. "My brother-in-law built me a large maple 'box' that I pushed into the corner," he says. The outside wall of the box contains cubicles for kitchen storage and books. Inside is a bathroom and walk-in closet; on top is a study/loft with two beds.
The cabin is both a launchpad for surfing and a place to relax in the rugged landscape. As for the sleek geometry, Andy says, "It honors the spirit of freedom that drew me here in the first place."
Design: Neumann Mendro Andrulaitis Architects, Carpinteria, CA (805/684-8885)
Keep Reading: