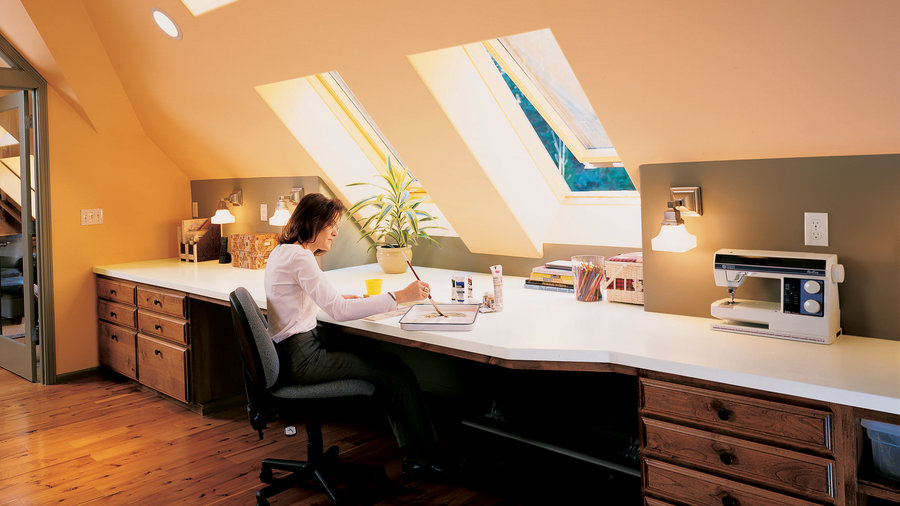 Carve into the attic for a home office, bathroom, and extra sleeping space
More: Inspiring home offices and workspaces
If your home feels cramped, look overhead. There may be hidden potential in the attic, despite angular spaces and low clearances created by dormers and sharply sloping ceilings.
"Remodeling an attic is like building a boat: You have to be creative in utilizing every available inch," says Seattle architect Gary Epstein. Here is an example of his work that charts some of the possibilities.
At first glance, Molly and Kevin LaChapelle's Redmond, Washington, attic didn't look like it had much promise: no floors, walls, or windows ― only large ducts, insulation, roof rafters, and ceiling joists.
Epstein was challenged to create a space that functioned as a craft room for Molly, a kids' sleepover spot, and a home office for Kevin.
He put Molly's area ― a desk-height work surface built under a low, sloped ceiling ― where the minimal clearance is most comfortable for someone sitting down. Skylights flood the counter with natural light; underneath is a long, shallow storage area that's perfect for long bolts of fabric.
Nearby, a very large duct could not be moved, so Epstein built bunk beds over it for the kids.
Kevin's home office occupies the other half of the attic. It's separated from the rest of the area by clear glass doors, so family noise won't disturb him, yet he isn't visually isolated, and the room can borrow light from the rest of the attic.
An irregularly shaped bookshelf makes efficient use of the unusual space. Here, the low-ceilinged area is walled off for storage.
A traditional way to bring daylight into an attic with a steeply pitched roof is to add dormer windows. Epstein's skylights brighten the space without breaking through the roofline the way a dormer would.
Several are low enough in the ceiling to function as windows. These skylights are shown as dotted rectangles on the plan. Cylinder-shaped skylights, which are visible over Molly's desk, add even more natural light.
Design: Gary Epstein, Moberg Epstein Architects, Seattle (www.mobergepstein.com or 206/332-1695)
Keep Reading: