A Slice of Trailer Park Americana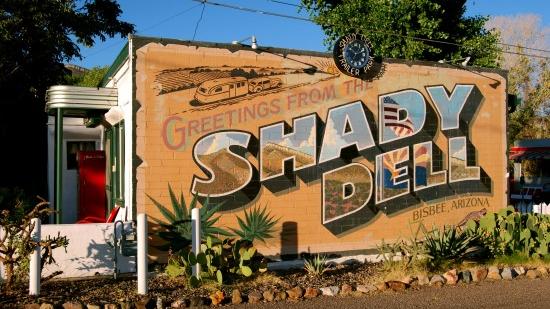 Meet one of the original trailer park motels.
This post may qualify us as truly trailer-obsessed, but there appears to be a never-ending supply of creative campers out here. Meet one of the original trailer park motels and, quite possibly, the ultimate ode to retro kitsch: The Shady Dell in Bisbee, Arizona.
The 9 gorgeous, fully-restored vintage trailers are like a portal to the 1950s. I'm a sucker for anything mid-century modern and these beauties don't disappoint: they're decked out with vintage appliances, ceramic cats and swans—even retro TVs that broadcast in two colors only and old issues of TIME. The icing on the vintage cake? The motel restaurant is an authentic milkshake-n-burgers diner (it was built in Kansas in 1957, then shipped to L.A. before landing in Bisbee).
The only things missing (we hope) are the machismo, TV dinners, and heavy drinking that permeated the Mad Men era.
Here, a few of our favorites, so wind back the clock at your leisure:
The Royal Mansion
The Tiki Bus
Keep Reading: