5 clever ways to put a ledge to good use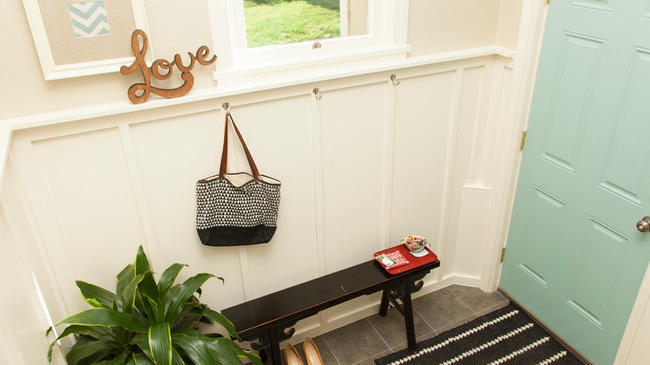 Sometimes a ledge — not a shelf — is what you need for form and function. Here's our room-by-room guide.
by Nicole Jacobs, Houzz
One of my favorite unsung heroes of home design is the ledge. Its function is similar to a shelf, since you can put stuff on both. But shelves and ledges differ in terms of form.
While a shelf is a horizontal piece affixed to a wall, a ledge may be built out of the wall like a ridge (framed into the wall and finished), built on top of a half wall or created from some trim work. Ledges can be deep or shallow, offering a variety of uses. If you're renovating or building, you might consider adding this pragmatic design detail for interest, depth and function. If you already have a ledge, consider the following ways to put it to good use.
1. Foyer
Build a ledge into the wall as part of the trim or molding as a way to add function and smoothly incorporate an architectural element.
Related: Is crown molding right for your house?
In this entry area, a rail ledge caps off the board-and-batten molding, creating visual interest and adding depth to the narrow space. Hooks are installed beneath the ledge for bags or coats, and the capping with the ledge gives them a finished look. The ledge also becomes a place to display 3-D decor such as the lettering spelling out "Love."
2. Kitchen
A smart place to consider building a ledge is the kitchen, where we often need a little extra functionality.
Here's a great example of a backsplash ledge made out of listellos, a tile finishing piece. The ledge is deep enough to accommodate kitchen items such as small potted plants, spices or bottles, perhaps filled with soap or hand lotion.
3. Bedroom
Small bedrooms are often a challenge to design, in terms of placing necessary main furniture pieces and still having space for our lamps, books and other accessories. Built-in ledges can be the solution because they don't take up precious floor real estate.
Here, a bold wall treatment of dark-stained horizontal wood planks is applied around the bed with an extended wooden ledge, acting as a dramatic and creative alternative to a bedside table.
4. Living Room
Sometimes we inherit quirky things in our homes, such as walls that have been built out in spots for no apparent reason. Often, in older homes, plumbing, electrical or HVAC elements were upgraded, and the wall was boxed out to accommodate them. If your home has a quirk like this, make it work for you. Add some decorative trim and create a ledge to display books, art or other items.
Those of us with radiant heating know that radiators are difficult to furnish around. Instead of a typical cover, this homeowner designed an extensive bookcase built out of the wall, the top of which acts as a deep ledge. Painted dark, it adds visual weight and grounds the room. It's a functional and stylish solution — and the radiator nearly disappears.
5. Bathroom
Ledges also have great utility in the bathroom, as they can act as dividers between the shower and toilet zones, as well as being pretty useful for storing toiletries.
If you're building or renovating a bathroom, a ledge in the shower should be on your wish list. Who wants shampoo bottles sitting in the corner on the floor? Here, a shallow, tiled marble ledge is built out of the shower wall. And see the bonus ledge? A deeper ledge is built right into the shower — that's a ledge we can actually call a bench. Decadent? Maybe. Gorgeous? Absolutely.
Keep Reading: