Rare corpse flower to bloom in Denver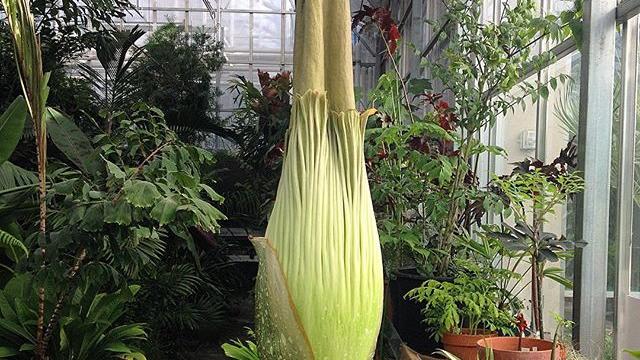 Stinky, the Amorphophallus titanum, or corpse flower, at Denver Botanic Gardens, is getting ready to bloom and when it does everyone in the area will know how the plant got its nickname.
The plant, native to the rain forests of western Sumatra, releases a stench that attracts flesh flies, which pollinate the corpse flower. Chemical analyses of the smell reveal that the flower releases dimethyl trisulfide (as does limburger cheese), trimethylamine (rotting fish), isovaleric acid (sweaty socks), and indole (mothballs), among other pleasantries. Stinky lives in a greenhouse but the kind folks in Denver will remove the windows so that visitors can enjoy the full aromatic experience.
Denver Botanic Gardens expects Stinky to blossom on Sunday and will keep the public informed on its website and through its social media outlets. (You can watch it live, here.) On the day of the bloom, there will be a members-only viewing from 6 a.m. to 9 a.m. and then a public opening from 9 a.m. to midnight.
The UC–Berkeley Botanical Garden had a corpse flower bloom last month and it attracted thousands of visitors. Stinky will be the first corpse flower ever to bloom in the Rocky Mountain region, and to mark the occasion Voodoo Doughnut is creating a special donut—limburger cheese, perhaps?—that will go on sale on Friday.
Keep Reading: