Plan a patio: Watching the garden grow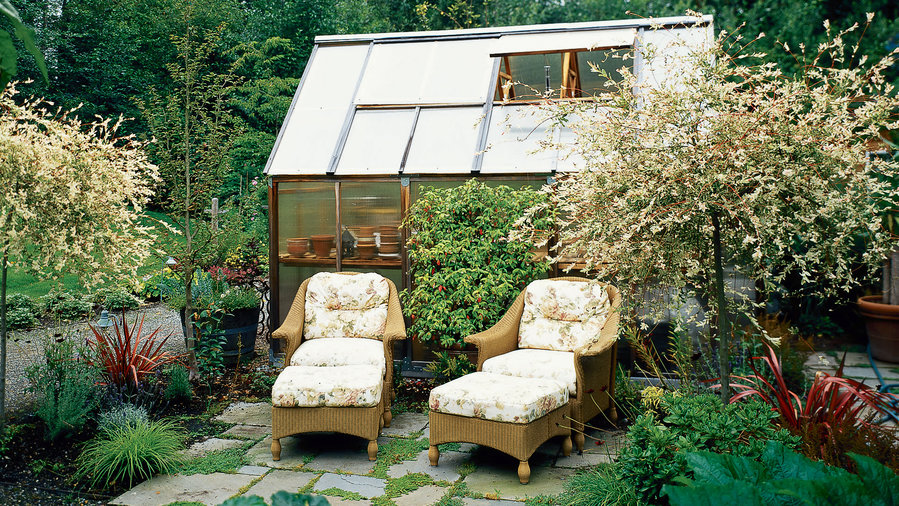 Design and location create a front row seat to nature
"Decks are architectural integrators; patios are landscape integrators," says landscape architect John Kenyon. "With a deck you have a rail and height separating you from the landscape. On the patio there's nothing between you and nature."
A patio can go anywhere on the lot – even off a small greenhouse facing the vegetable garden. Kenyon says watching vegetables grow is like watching television for gardeners. "A vegetable garden grows and changes daily – it almost makes other plantings seem static. It's fun to sit back, watch it happen, and appreciate your hard work," he says.
To soften the pavers and add interest to the space, Kenyon placed perennials around the irregular 8- by 8-foot stone shape. Willow trees (Salix integra 'Hakuro Nishiki') and fuchsia (F. x hybrida) add height and screen the greenhouse. Bronze New Zealand flax (Phormium tenax) adds a splash of color, and large squash leaves make the transition between patio and vegetable garden.
It is the most successful spot in this garden," says Kenyon. "Everyone ends up hanging out there."
DESIGN: Sundance Landscaping Design/Build, Redmond, WA (425/881-5518 or www.sundancelandscaping.com)
HOW TO PLAN A PATIO
Choose the site carefully. Because the patio puts you close to the garden, locate it in an interesting area – facing a view of your garden or of rolling hills, for example.
Define the space. Use plants to create leafy walls for privacy and a sense of place. Tuck ground covers between pavers to create a living carpet underfoot.
Establish a color scheme. Coordinate your colors with those in the surrounding area – the colors of your exterior walls, flowering shrubs, or trees – or if you want the patio to be an extension of an interior room, borrow from that room's palette.
Choose materials carefully. In the garden above, designer John Kenyon used a mix of tumbled concrete pavers and bluestone for a more aged appearance. The color mix, along with the Corsican mint growing between the pavers, adds texture, color, and pattern to the area.
Provide seating. Be sure to group chairs, benches, or other pieces of outdoor furniture so that people can see each other and comfortably converse.
Add finishing touches. Consider a fountain for the soothing sound of water, cushions for comfort and color, and garden art tucked among the plants to both surprise and amuse.
Keep Reading: