Penstemon, Beard tongue (Penstemon)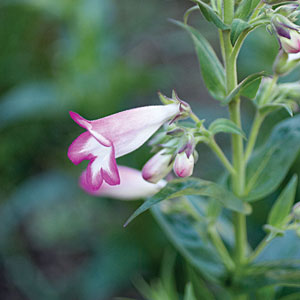 Quick facts and care essentials
• Zones vary
• Full sun; light shade in hot-summer climates
• Regular watering
These bushy, typically upright plants are fairly short lived–but to make up for it, they produce lots of color over a long period. The tubular, 1- to 2-inch-long flowers, popular with hummingbirds, are carried on leafy, semirigid stalks that rise from clumps of narrow, 3-inch-long leaves. Flower colors of penstemon species are red, orange, and blue, but cultivars have increased the range to include white, soft pinks, salmon, peach, deep rose, lilac, and deep purple. Plants generally grow as wide as they are tall.
Two widely sold species, both offering many cultivars, are P. barbatus (Zones 1-24, 31-43), reaching 2 feet tall and blooming from midsummer to fall; and P. gloxinioides (Zones 7-9, 14-24), a 2- to 4-foot-tall summer bloomer.
Grow penstemon in average to sandy or slightly rocky soil; be sure drainage is good. These plants aren't divided, but simply replaced every 3 to 4 years. Don't fertilize them ― doing so shortens their already brief lifespan.