Ultimate Mexican Wedding Cake Cookies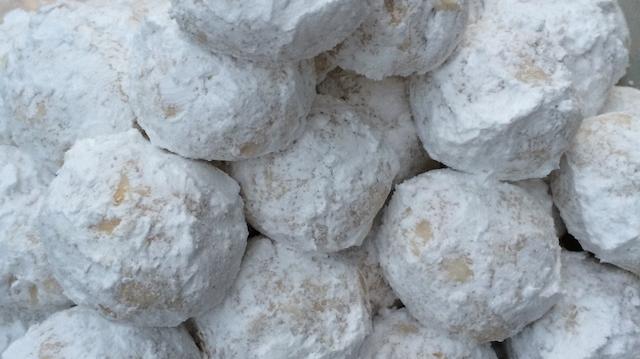 Whatever you call them, these sweet little bites are an elegant thing to serve with afternoon tea or after dinner
Bonus: This is an easy, big-batch recipe that you can crank out for everyone on your list.
Tips for success
Spoon and sweep flour into a measuring cup and level off with a metal spatula. If you scoop with the cup or tap it before leveling it, you'll pack in extra flour and the cookies will be dry.
Finely chop the nuts so they'll get crunchy while the dough bakes.
Check that the dough is evenly blended with no dry, floury patches or flecks of butter.
Keep 'em small. Make the cookie balls about 1-in. wide so they'll cook all the way through.
Bake slow and low (300°) for the best flavor development. The cookies are done when they're pale golden on top and a deeper golden on the bottom.
Toss cookies in the first coating of powdered sugar when they're still warm, so the sugar melts and sticks.
Toss cookies for the second time in powdered sugar when they're completely cool, so the sugar forms a snowy coating.
---
Ultimate Mexican Wedding Cake Cookies
MAKES: About 200
 3 cups (6 sticks) butter, softened
2 tbsp. vanilla extract (yes, that's 2 tbsp. and not 2 tsp.)
About 1 3/4 lbs. powdered sugar, divided
6 cups flour (see Tips for Success, above)
3 cups finely chopped walnuts
1. Preheat oven to 300°. Line 2 rimmed baking sheets with parchment paper.
2. Beat butter, vanilla, and 1 cup powdered sugar in the bowl of a stand mixer on medium speed until creamy, well-blended, and fluffy. Add flour 2 cups at a time, beating on low speed, then on medium speed after each addition until well-blended, stopping occasionally to scrape inside of bowl. Add nuts and beat on low speed until blended. Stir by hand a few times to be sure dough is evenly blended.
3. Roll even 1-in. balls of dough in your hands and space 1 in. apart on lined baking sheets.
4. Bake until dough is pale golden on top and golden on the underside, 25 to 35 minutes. Let cool 5 minutes.
5. Gently toss warm cookies a few at a time in a bowl of powdered sugar (the sugar will melt and form a coating), then set on wire racks to cool completely. Repeat to make more cookies.
6. Gently toss cookies in powdered sugar again to coat generously. Store airtight up to 1 week, or freeze.
For more holiday favorites, check out the Sunset cookie cookbook.
Keep Reading: