4 Posh Hostels You Need to Try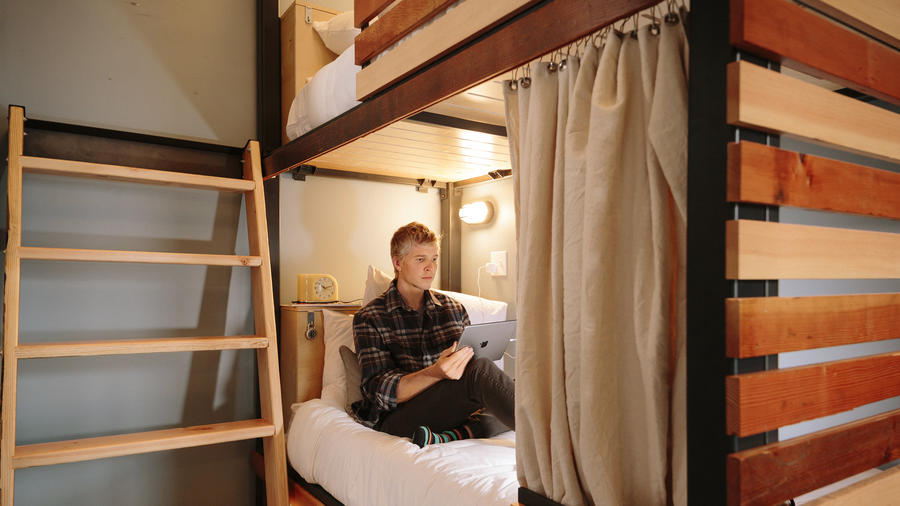 If the word "hostel" has you recalling a thrifty Euro-backpacking trip, this is a much-improved evolution
A new hybrid of accommodation is introducing travelers to an unconventional sleeping arrangement: bunking in a room with strangers. Why on Earth … ?! Those who check into poshtels (posh hostels) cite sociability and affordability in a prime location as the reasons.
At a glance, a poshtel is a regular hotel with en suite rooms, but within are spaces configured to sleep more occupants, with bunks, private lockers, and even some rooms designated "female." Hostel guests can also dip into the hotel's sweet extras, like the pool. The concept seems to appeal to solo travelers and small groups, both growing segments. But shared rooms aren't for everyone: The savings for couples may not be worth it, and light sleepers may want to steer clear.
Still, for the right kind of guest, poshtels certainly have their perks; we survey four such poshtels from the mountains to the coast to try.
The Society Hotel, Portland, OR (from $35)
The Society Hotel features custom-built triple-stacked bunks, curtains and locked storage pods maintain a hint of privacy. Twenty-four bunks fill one coed room, with private bathrooms and showers on an attached mezzanine. Pay $84 more (from $119) for your own bathroom, plus whitewashed brick walls with artifacts recovered during the renovation of this 1881 former sailors' lodge. The rooftop deck has views of Mt. Hood and Lan Su Chinese Garden, and the hostel itself is located in the heart of Old Town Chinatown with a strong LGBT bar scene.
Courtesy of The Adventure Lodge
The Adventure Lodge, Boulder, CO (from $38)
Cabin-style room with knotted-wood walls and some with views of ponderosa pines can be found at The Adventure Lodge. A coed bunk room includes eight beds and a vanity, or you could pay $69 more (from $107) for a creekside porch, kitchenette, and bed with a plaid throw. The hostel includes hot tubs and pool, with a social hub is coming soon, and easy access to the great outdoors, with spring-fed creeks, alpine meadows, and a 3-mile bike path to Boulder.
Hostel Fish, Denver, CO (from $45)
Hotel Fish has cheekily themed bunk rooms, international maps and tattoo-artist graffiti adorn the walls. Seven coed bunk rooms sleep four to 10 people each, and two women-only rooms sleep up to seven each. One can pay $105 more (from $150) for a room resembling an artist studio, complete with industrial pop art. There's a lounge where craft cocktails flow and ping-pong games are underway. Hotel Fish can be found in the creative scene of River North, near galleries, museums, and jazz clubs.
The Wayfarer, Santa Barbara, CA (from $49)
Mermaid wallpaper and faux-fur blankets can be found in The Wayfarer's male and female dorms, with up to five beds in each room, and in-room bathrooms. Paying $100 more (from $149) gives you a little more solitude in a three-person suite. There's also a heated, palm-fringed pool where you can enjoy the stock of floaties. The hostel is located in the Funk Zone, backed by the Santa Ynez Mountains and surrounded by dozens of wineries.
Keep Reading: