33 Brilliant Ways to Actually Use Your Travel Photos
If you travel and own a camera or smartphone, it's safe to say you return home from vacation with hundreds of snapshots. Or thousands. Some destinations are just really, really ridiculously good-looking. As for the fate of these travel photos? You'll probably continue to Instagram them for the next couple of days while you can still get away with pretending your trip isn't over. Maybe you'll set aside a few for #tbt posts on particularly dreary future Thursdays. Maybe, if you have a penchant for evoking envy in friends and acquaintances, you'll make a Facebook album, too. But after that, all of those precious pixelated moments from family vacations, 
weekend getaways
, and epic adventures will sit, forgotten, in a digital folder or on a hard drive. No longer. When it comes to travel photo projects, the Internet is full of smart ideas — like 
paper lanterns
 or a 
photo-wrapped pencil set
 — and these kinds of things are lovely for when you're feeling (very, very ambitiously) inspired. For the knowingly craft-challenged set, simple prints are the way to go.
Parabo Press
 is a good site for beginner photo printers as it's super easy-to-use — though it's actually the sister site to both of those not-as-easy DIY tutorials. They have simple and affordable printing options and some more unique styles like 
black and white engineer prints
 or 
velvety matte glass ones
. For your first order, you can actually get 
a set of 25 square-shaped prints
 for free, just paying for shipping. There's also a world of options dotting the middle of the creative enthusiasm spectrum, and you'll find my favorites below. (P.S. a lot of them make 
great gift ideas
 for jetsetting friends and family.)
Turn your Instagram feed into an actual book
travel-themed covers
.
Print photos directly from your smartphone
Fujifilm Instax Mini
 is fun, but I too often found myself retaking the exact same photo on my phone because I am a visual hoarder. Enter the 
Prynt case
, a printer that attaches directly to the iPhone to print photos instantly, or you know, after 
a few edits
 and the 13 test shots it might take to find 
just
 the right angle.
Hang them on a cute clothespin display
five-tiered frame
 is $20 at Bed, Bath, & Beyond. It's not cheating, I promise.
Pin them to a cork map bulletin board
cork wall map
. And don't forget these 
tiny push-pins
!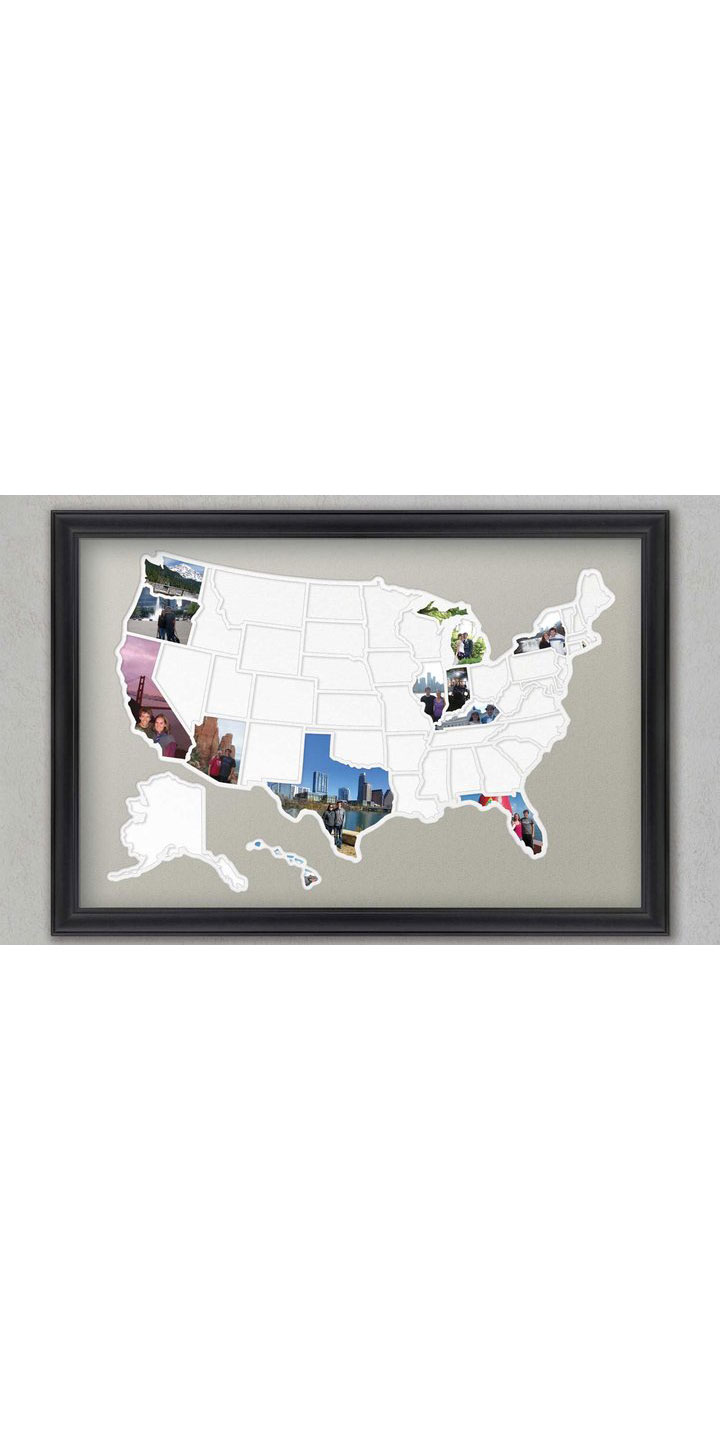 Fill in a map-shaped photo frame
pre-cut matboard photo frame
. It also comes with state-shaped cutouts you can use as a template when sizing your photos to fit.
Or have someone artsy do it for you
travel-inspired art category
.
Get fancy with some word art
Etsy artist
 will turn your photos into typography prints. And don't worry, you can choose the font.
Make a new luggage tag
family vacation
 quite like matching photo luggage tags.
Or a passport holder
Personalize a perfume label
try the Starter Kit
 to determine which fragrance is most reminiscent of your trip.
Turn your photos into a puzzle
full-bleed versions
 of your photo.
Create your very own stamps
To put on your very own postcards
postcard pack
. You can create 20 cards, with as many different images as you'd like, and they're printed into a book using 100-percent recycled paper.
Use them to protect your tech
iPhone cases
, 
Apple watch bands
, 
Macbook sleeves
, and more.
Eat them
marshmallows from Boomf
. At Eleni's New York, you can also 
print on cookies and cupcakes
.
Turn them into stickers
monetize your travels
, they also offer these cute, pocket-sized 
sticker books
.
Paint them! Or again, maybe hire someone to do a better job
CarlinArtWatercolor shop
 creates beautiful custom watercolors from your photos. If you're more of an acrylic person, the 
lindywhittonstudio shop
 offers custom work from $78.
Print your own ceramic tiles
ImageSnap
 make for cool shelf decor, magnets, or wall art.
Put them on your nails; yes, really
Make your desk less sad with a daily travel photo calendar
incredible travel experiences
.
Upgrade your dopp kit
without 
one of your beautiful photos on it?
And your go-to tote bag
perfect tote for the beach
? Print one with your favorite seaside snapshots.
Get nostalgic with a Retroviewer
Get futuristic with tech wraps
phone charger
 — or 
tablet
, or 
Amazon Echo tower
 — is yours again.
Pair your memories with a scent
Customize a pair of classic kicks
great shoes for travel
, they also make a great canvas for your travel photos. An "Add Your Own Photo" feature is available for an extra $10 on men's, women's, and kid's Vans in the Classic Slip-On and the Authentic style sneaker.
Or a T-shirt
Or a pair of leggings
Or an entire wall
Murals Your Way
 uses to help you create custom wall images checks the resolution, and they have an 
easy one-sheet for other photo requirements
 to ensure your new living room scenery comes out the way you intend it to.
Or, my personal favorite, a shower curtain