Ferry to Tiburon, California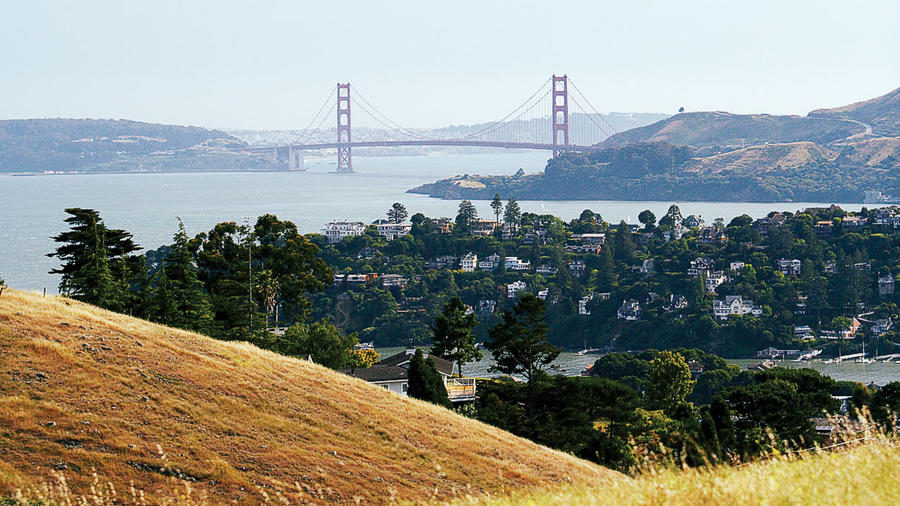 Hike a hidden trail to amazing bay views in Marin County's little piece of paradise
In the recent children's book Blackie: The Horse Who Stood Still, a swaybacked horse named Blackie travels around the West before ending up in Marin County's Tiburon, a town so picturesque Blackie thinks, "I simply can't wait just to stand in one spot there, And watch a gull soar, or a tree gently sway, Or the fog rolling in from the hills 'cross the bay."
Copies have sold in Australia, Japan, and the United Kingdom. But for many of us Northern Californians, it's just a quick trot or a ferry ride to Blackie's paradise on the shores of Richardson Bay.
GETTING THERE
From San Francisco, exit U.S. 101 north at Tiburon/State 131, then follow it 6 miles to the waterfront. By boat: Take the Blue and Gold ferry from San Francisco's Pier 41 to Tiburon ($9 one way, $5 ages 5–11; 415/773-1188). Bring your own bike on board, or rent one at Demo Sport (call ahead for bike rentals from $10; 1690 Tiburon Blvd.; 415/435-5111).
GO
Ridge Trail In a town of views, this hidden trail, 1 mile one-way, has one of the best: a 360° vista spanning San Francisco Bay, Angel Island, and the Golden Gate Bridge. INFO: From Tiburon Blvd., take Lyford Dr. to the top.
Tiburon Bike Path The 3-mile flat, paved, bay view-lined path follows the old railroad way. Ride from downtown to Blackie's Pasture, where you can admire a statue of the real Blackie, a town mascot in the 1950s and '60s. INFO: Demo Sport: call ahead for bike rentals from $10; 1690 Tiburon Blvd.; 415/435-5111.
Old St. Hilary's Open Space Preserve The landmark 1888 church is surrounded by a wildlife preserve where rare wildflowers bloom. The teensy black jewelflower grows only on the Tiburon peninsula and blooms only at this time of year. INFO: Preserve open daily; church open 1–4 Wed and Sun through Oct; from Tiburon Blvd., take Beach Rd. to Esperanza St.
EAT
Three Degrees Sit outside on a warm night, or in the bar area (more fun than the snoozy back dining room). INFO: $$$; at the Lodge at Tiburon, 1651 Tiburon Blvd.; 415/435-5996.
SIP
Windsor Vineyards Tasting Room Founder Rodney Strong used to live in the cute Victorian cottage that now serves as Windsor's tasting room. Go for the unusually balanced Chenin Blanc. INFO: Free tastings; 72 Main; 800/214-9463.
MAKE IT AN OVERNIGHT
Watch the sun sink into the bay from the porch of Waters Edge Hotel (from $189; 877/789-5999). Its 23 elegant rooms all have fireplaces; request a room in the back, with a full water view. The other option is the Lodge at Tiburon (102 rooms from $199; 415/435-3133), which is more like a stylish roadhouse.
Keep Reading: