6 ways to have a perfect day in Pescadero, California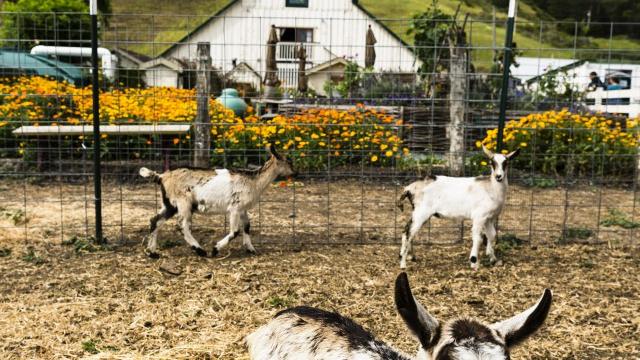 Summer in this crowd-free farm town on the San Mateo Coast comes with craft brews, secret beaches, and some of the best goat cheese in Ca...
Summer in this crowd-free farm town on the San Mateo Coast comes with craft brews, secret beaches, and some of the best goat cheese in California. Sunset writer Jenna Scatena shows us the way.
1. Break bread
Arcangeli Grocery Co./Norm's Market churns out country-style loaves, including its famous artichoke garlic herb bread, a yeasty bomb stuffed with artichoke hearts and dusted generously with garlic salt. Chances are you'll find it hot, or not at all, as loaves go quickly. 
2. Pet some goats
At Harley Farms Goat Dairy, 200 Alpine goats graze on 29 grassy acres patrolled by llamas. It's quite a sight as you pass through the gates of the 1910 farm, but to fully appreciate it, book the tour, where you'll learn all about cheesemaking, from milking to pasteurizing to packaging. Harley's hoofed cuties are responsible for award-winning cheeses like the fresh chèvre medallions and earthy fromage blanc. Find selections alongside goat's-milk lotions and soaps in the farm store. Monthly five-course dinners take place in the rustic-chic hayloft overlooking the garden as the sun sets over the hills.
3. Find an empty beach
Push past well-known Pescadero State Beach for its often-overlooked neighbor just down the highway, Bean Hollow State Beach. This blink-and-you'll-miss-it cove packs a lot of fun into one small sandy space: picnic tables perched on rugged low-lying bluffs, shallow tidepools fat with anemones and urchins, a crescent strip of shoreline perfect for spotting sand dollars and driftwood. The only thing it's not good for is swimming, thanks to dangerous rip currents. Instead, burn your calories on the succulent-strewn 1.5-mile (one way) trail that curls along the coast.
4. Beer and waffles
Pescadero's best attractions can be found in the most unexpected places. Like Highway 1 Brewing Company, an unassuming alehouse that shares a lonely lot with a mom-and-pop gas station. On weekends, locals funnel in for the rotating lineup of unorthodox beers, such as Pepper in the Rye, a rye ale with the kick of cracked peppercorns, or the seasonal Salted Caramel Porter. Either goes well with the house-fave fried chicken over cheddar-potato waffle, best consumed at picnic tables on the laid-back patio.
5. Buy a Beatles LP
Until recently, "shopping" in Pescadero (population 643) referred to the produce you picked up at the farmstand. Then a couple of years ago, the town got a dose of urban cool with the opening of Downtown Local, a part curio shop, part hangout that lets customers sip Sightglass coffee while they peruse the store. A 1949 Nimbus motorcycle poses in the window in lieu of mannequins, and the shelves are jam-packed with eccentricities collected from Barcelona to Death Valley, like first-print Beatles records and groovy retro canteens. Ride out your caffeine buzz in the hidden 12-seat nano theater in the back, which plays silent films in a loop. 213 Stage; (650) 879-9155.
6. Glamp like a champ
Think of Costanoa as a drastically improved version of your childhood summer camp. Instead of musky bunk-bedded cabins, pristine white glamping tents populate the manzanita-shaded property. A long list of day activities includes mountain biking, horseback riding, and naturalist-led hikes. And the perks don't stop when the sun goes down: S'mores-ready firepits with Adirondack chairs and heated blankets are on hand to keep you warm, and strategically placed "comfort stations" with dry saunas and hot showers abound. Want to skip the winding drive to dinner? Check out the on-site Pine Tent BBQ & Brew, serving baby back ribs and local wines through the end of October.
Keep Reading: