5 new get-away-from-it-all hotels in the West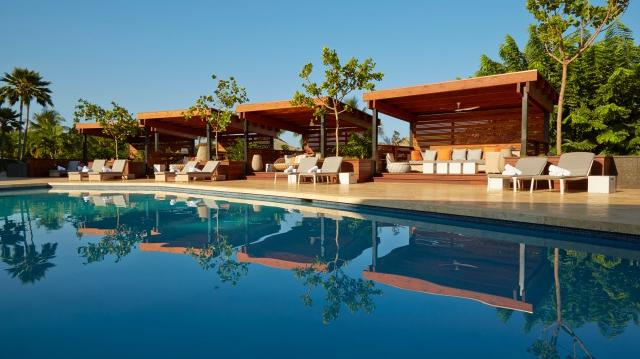 If you're looking for an island escape or a vineyard getaway, one of these five new hotels, scattered throughout the West, should fit t...
If you're looking for an island escape or a vineyard getaway, one of these five new hotels, scattered throughout the West, should fit the bill.
1. Hotel Wailea, Maui, HIHawaii packs a lot into its eight main islands—but not, till this year, a hotel that met the, let's say, picky admission criteria of France's Relais & Châteaux organization. Formerly a private resort for Japanese high rollers, Maui's 72-suite Hotel Wailea (555 Kaukahi St.) opened to regular guests after it changed hands in 2008. Its drab decor, however, kept it under everyone's radar.
Thanks to a complete overhaul—Sub-Zero refrigerators and polished oak floors—the 15-acre hillside property has joined the likes of Meadowood and Dunton Hot Springs in the rarefied R&C stable. From $420. 
2. The Landsby, Solvang, CAAlthough we may picture half-timbered houses and Little Mermaids when we think of Denmark, the country is equally famous for modern design.
So this stylish 41-room hotel (1575 Mission Dr.) actually makes perfect sense in a storybook "Danish" village—and it couldn't be better located for exploring Solvang's 18 tasting rooms and the wineries of the surrounding Santa Ynez Valley. From $225.
3. The Lodges on Vashon, Vashon, WARainy, remote locales like Vashon Island often prompt the designers of new hotels to think outside the box. Make that inside the box. And by box, we mean prefabricated modules, constructed off-site and then trucked (lighting, finishes, and even bathroom sinks already installed) to the final location. In August, the Lodges on Vashon (17205 Vashon Highway SW) open at the north end of Vashon town: 16 stand-alone one- or two-bedroom units (left) with gas fireplaces, kitchenettes, and heated floors. From $190.
4 and 5. Senza and the Brannan Cottage Inn, Napa Valley
Last but not least are two recently renovated Victorian hotels that bookend the sweet spot of Napa Valley wine country—that is, the stretch of State 29 between, to the south, the city of Napa itself and, to the north, the funky mud-bath town of Calistoga.
The first, the eight-room Parker Mansion (circa 1870), serves as a cool marble-and-taupe nucleus of an otherwise modern 41-room resort called Senza (4066 Howard Ln.), owned by the family behind Hall Wines and set right where the city of Napa's cul-de-sacs start giving way to vineyards. From $239. 
The second, a gingerbread villa called the Brannan Cottage Inn (109 Wappo Ave.), occupies one of the original cottages that Calistoga's founder, the freewheeling Samuel Brannan, built for his hot-springs resort in 1860. Along with the appropriate antiques, its six bedrooms are furnished with Illy espresso machines, flat-screen TVs, and Roku boxes. (In fact, this year the hotel won a Sunset Travel Award for its renovation.) The buccaneers of today should feel right at home. From $299. 
Keep Reading: