Print Options:
Yogurt Honey Jelly with Strawberries and Roses


Yields
Makes 6 servings

Sunset's April 1975 recipe for Russian Cream—and English food writer Josceline Dimbleby's recipe for Athenian Jelly—inspired Niloufer Ichaporia King to make this dessert. It's perfect after Parsi food and very much in character with it. Serve with cookies if you like. Prep and Cook Time: 20 minutes, plus 1 hour of chilling time. Notes: We used a 6-in. cake pan for the mold, but you can use anything from a plain metal mixing bowl to a fancy crenellated pudding bowl. Or pour the yogurt into small bowls to make individual servings. Find rose water in Middle Eastern markets, and look for Middle Eastern, French, and Italian brands over Indian ones—they have better flavor. Rose petals are edible if they're pesticide-free; pluck from your garden if you haven't sprayed, or ask for them at your local farmers' market flower vendors.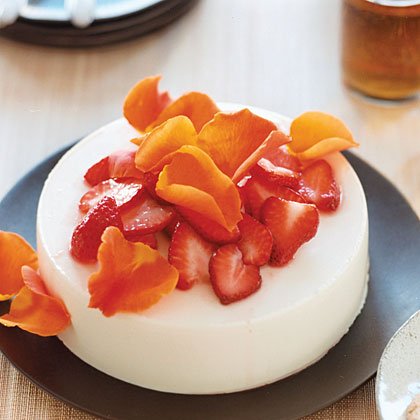 Photo: Thayer Allyson Gowdy; Styling: Karen Shinto
1 envelope (1/4 oz.) powdered gelatin
1/2 cup heavy whipping cream
4 tablespoons honey, or to taste
1 1/2 cups plain Greek yogurt
1 cup hulled strawberries, sliced lengthwise
1/2 teaspoon rose water (optional; see Notes)
1/4 cup rose petals (see Notes)
Step 1
1
Put gelatin and 1/2 cup water in a small saucepan and let soften for a few minutes. Meanwhile, pour cream and vanilla into a medium bowl and use an electric mixer to whip the mixture into soft peaks.
Step 2
2
Heat gelatin mixture gently over low heat until gelatin dissolves completely. Stir in honey and salt; remove from heat.
Step 3
3
Whisk yogurt in a medium bowl. Whisk some yogurt into gelatin-honey mixture; then whisk that mixture into rest of yogurt. Fold whipped cream into yogurt mixture and pour into a 6-in. cake pan. Cover with plastic wrap and chill until set, at least 1 hour.
Step 4
4
Combine strawberries, sugar, and rose water in a small bowl and mix gently. (If you'd like a bit of syrup, let mixture sit for 20 to 30 minutes before serving.)
Step 5
5
To unmold, dip underside of cake pan in a large bowl of hot water for a minute or so. Remove from water and set a serving plate face down on top. Holding plate in place, quickly invert cake pan to release jelly (tap pan if necessary). Top with strawberries and rose petals.
Step 6
6
Note: Nutritional analysis is per serving.
Nutrition Facts
Servings 0
---
Amount Per Serving

Calories 207

Calories from Fat 57

% Daily Value *

Total Fat 13g

20

%

Saturated Fat 9.2g

46

%

Cholesterol 37mg

13

%

Sodium 51mg

3

%

Total Carbohydrate 18g

6

%

Dietary Fiber 0.7g

3

%

Protein 5.7g

12

%
---
* Percent Daily Values are based on a 2,000 calorie diet. Your daily value may be higher or lower depending on your calorie needs.