Print Options:
Winter-greens Turnovers


Yields
Makes 20 turnovers (serving size: 1 turnover)

Turnovers are a wonderful addition to your hors d'oeuvres repertoire. Ours, filled with mellow Swiss chard, cheese, and bitter dandelion greens, have an earthy flavor and crisp exterior. Prep and Cook Time: 1 hour, 30 minutes.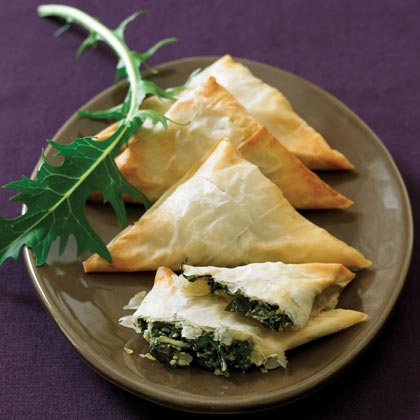 Leigh Beisch
1 bunch Swiss chard (ribs and stems discarded), coarsely chopped
1 bunch dandelion greens (stems discarded), chopped
1/4 cup whole-milk ricotta
1/2 teaspoon each salt and freshly ground black pepper
Step 1
1
Heat a large frying pan over medium-high heat; add olive oil. Add onion and cook, stirring, until translucent, about 3 minutes. Add garlic and cook 2 minutes more.
Step 2
2
Add Swiss chard and dandelion greens to pan in large handfuls and cook, stirring, until any liquid is evaporated. Transfer mixture to a medium bowl and stir in parmesan, ricotta, egg, salt, and pepper.
Step 3
3
Preheat oven to 350°. Melt butter in a small saucepan. Unroll phyllo and cover with a moist towel. Working with 1 sheet of phyllo at a time, arrange sheet so a short side is facing you. Cut sheet lengthwise into three even strips and brush each strip liberally with butter. Place a heaping tbsp. of greens at the bottom of each strip of phyllo, slightly off center. Fold the dough to make a triangle, then continue folding and turning (like you are folding a flag) to make the turnover. Brush top with butter and put on a baking sheet. Repeat with remaining phyllo, greens, and butter. Bake finished turnovers until puffed and brown, about 30 minutes. Serve hot.
Step 4
4
Note: Nutritional analysis is per turnover.
Nutrition Facts
Servings Makes 20 turnovers (serving size: 1 turnover)
---
Amount Per Serving

Calories 115

Calories from Fat 66

% Daily Value *

Total Fat 8.4g

13

%

Saturated Fat 3.9g

20

%

Cholesterol 26mg

9

%

Sodium 246mg

11

%

Total Carbohydrate 7.5g

3

%

Dietary Fiber 1.4g

6

%

Protein 3.1g

7

%
---
* Percent Daily Values are based on a 2,000 calorie diet. Your daily value may be higher or lower depending on your calorie needs.