Print Options:
Whole-grain Penne with Walnuts, Caramelized Onions, and Ricotta Salata


Yields
Makes 8 servings


Total Time
1 hr 20 mins
The combination of flavors here plays up the nutty flavor of whole-grain penne. Prep and Cook Time: 1 hour, 20 minutes. Notes: Ricotta salata (also called "hard ricotta") is a firm white Italian cheese made by salting, pressing, and drying sheep's-milk ricotta. In flavor, it's like a very mild, nutty, less tangy feta, which makes it a natural addition to pastas and salads (it can also be grated). Look for ricotta salata in specialty stores, Italian markets, or any supermarket with a good cheese department.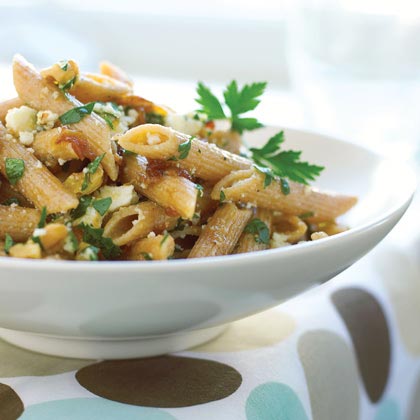 Iain Bagwell
7 medium onions (about 4 lbs.), peeled and thinly sliced
10 ounce whole-grain penne or fusilli pasta
1 pound ricotta salata, crumbled (see Notes)
2/3 cup loosely packed flat-leaf parsley, chopped
1 1/2 tablespoons fresh lemon juice
1 1/2 teaspoons freshly ground black pepper
Step 1
1
In a large frying pan over high heat, cook onions in 3 tbsp. olive oil with sugar and 2 tsp. salt, stirring and turning often, until onions begin to release their juices and turn golden, 10 to 13 minutes. Reduce heat to medium and cook, stirring occasionally, until onions turn a caramel color and become quite sweet, 35 to 40 minutes more. If onions begin to stick to the pan or char during cooking, reduce heat.
Step 2
2
Meanwhile, in a small frying pan (not nonstick) over medium-low heat, toast walnuts, stirring frequently, until fragrant and golden, about 10 minutes. Remove from heat and cool slightly. Pour walnuts into a zip-lock plastic bag and lightly crush with a rolling pin. Set aside.
Step 3
3
When onions are nearly done, cook pasta in boiling salted water until tender to the bite, 9 to 12 minutes or according to package instructions. Drain pasta, reserving about 1/2 cup cooking water.
Step 4
4
Toss caramelized onions with pasta, walnuts, ricotta salata, parsley, reserved cooking water, lemon juice, pepper, and remaining 2 tbsp. olive oil. Season to taste with salt. Serve hot.
Step 5
5
Note: Nutritional analysis is per serving.
Nutrition Facts
Servings 0
---
Amount Per Serving

Calories 594

Calories from Fat 53

% Daily Value *

Total Fat 35g

54

%

Saturated Fat 11g

56

%

Cholesterol 50mg

17

%

Sodium 1559mg

65

%

Total Carbohydrate 56g

19

%

Dietary Fiber 9.3g

38

%

Protein 19g

38

%
---
* Percent Daily Values are based on a 2,000 calorie diet. Your daily value may be higher or lower depending on your calorie needs.