Print Options:
Whole-grain Pasta Soup with Greens and Parmesan


Yields
Makes 6 to 8 servings


Total Time
30 mins
In a recipe this simple, every ingredient shines, so be sure to use the best-quality cheese and chicken broth you can find. Prep and Cook Time: 30 minutes. Notes: Parmigiano-reggiano cheese (true parmesan from northern Italy and very flavorful) is sold in gourmet, Italian, and Whole Foods stores, or in any supermarket with a good cheese selection. Parmesan cheese from Argentina is a widely available, less expensive substitute. This soup is meant to be made just before serving; after a few hours in the broth, the pasta will turn soft and gummy.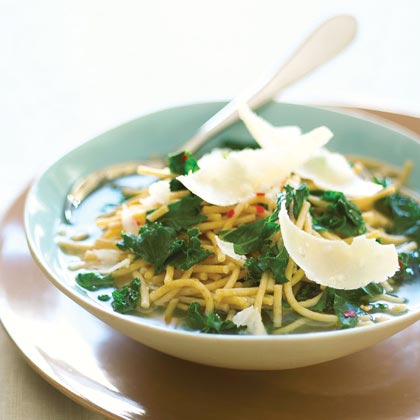 Iain Bagwell
10 1/2 cups reduced-sodium chicken broth (or homemade chicken stock)
3 cups very thinly sliced kale leaves (stems removed)
8 ounces whole-grain angel hair pasta or thin spaghetti, broken into small pieces
6 ounces parmigiano-reggiano cheese (see Notes)
2 teaspoons fresh lemon juice
Red chile flakes (optional)
Step 1
1
In a large pot over high heat, bring chicken broth to a boil. Add kale, reduce heat to medium-high, and cook 2 minutes. Add pasta and cook until tender but not soft, 4 to 7 minutes or according to package instructions. While pasta is cooking, use a vegetable peeler to shave cheese into strips about 3 in. long and 1/2 in. wide (strips do not need to be exact).
Step 2
2
Just before serving, stir in lemon juice, then divide soup among 6 bowls. Top each bowl with cheese and a sprinkling of chile flakes, if you like.
Step 3
3
Note: Nutritional analysis is per serving.
Nutrition Facts
Servings 0
---
Amount Per Serving

Calories 236

Calories from Fat 22

% Daily Value *

Total Fat 5.8g

9

%

Saturated Fat 4g

20

%

Cholesterol 17mg

6

%

Sodium 1059mg

45

%

Total Carbohydrate 29g

10

%

Dietary Fiber 4.4g

18

%

Protein 19g

38

%
---
* Percent Daily Values are based on a 2,000 calorie diet. Your daily value may be higher or lower depending on your calorie needs.