Print Options:
White Cheddar-Sage Popovers


Yields
Makes 12


Total Time
1 hr 45 mins
Use popover pans for higher, airier popovers. (Muffin pans work too, but leave every other cup unfilled so heat circulates.)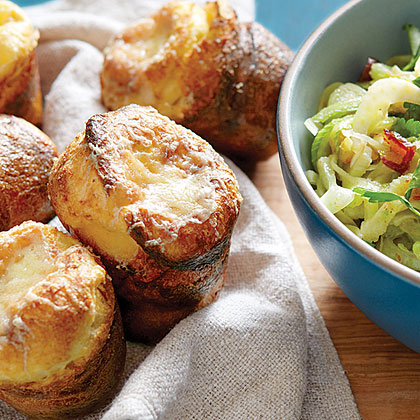 Photo: Maren Caruso; Styling: Robyn Valarik
1 tablespoon chopped fresh sage
1 cup finely shredded sharp white cheddar cheese, divided
Step 1
1
Whisk milk and eggs, then whisk in flour, salt, pepper, and sage. Stir in 1/2 cup cheese. Let stand 1 hour.
Step 2
2
Preheat oven to 450° at least 30 minutes before baking. Divide butter among 12 popover cups. Put pans in oven 2 minutes to melt butter. Set a rimmed baking sheet on rack beneath to catch any dripping butter as popovers rise.
Step 3
3
Stir batter and ladle into cups. Bake 10 minutes. Without opening oven, reduce heat to 375° and bake until popovers are puffed and golden, about 15 minutes more. Top each with a large pinch of remaining cheese and return to oven to melt cheese, 5 minutes.
Step 4
4
Free popovers from pan by running a thin metal spatula around edge; lift from bottom.
Step 5
5
Note: Nutritional analysis is per popover.
Nutrition Facts
Servings Makes 12
---
Amount Per Serving

Calories 166

Calories from Fat 40

% Daily Value *

Total Fat 7.5g

12

%

Saturated Fat 4.1g

21

%

Cholesterol 86mg

29

%

Sodium 268mg

12

%

Total Carbohydrate 16g

6

%

Dietary Fiber 0.9g

4

%

Protein 8g

16

%
---
* Percent Daily Values are based on a 2,000 calorie diet. Your daily value may be higher or lower depending on your calorie needs.