Print Options:
Wasabi Mashed Potatoes


Yields
Serves 8 to 10


Total Time
45 mins
Chef Shigefumi Tachibe, Chaya Restaurants, Los Angeles: "I found the flavors of Thanksgiving to be somewhat bland when I moved to America in 1983 from Nagasaki, Japan. However, I cooked American dishes every year in order to teach the traditions to my children. But now I like to add subtle Japanese twists without them being too overwhelming."
Shigefumi Tachibe serves these mashed potatoes topped with crumbled bacon, but our recipe uses fresh shiso leaves for a lighter flavor.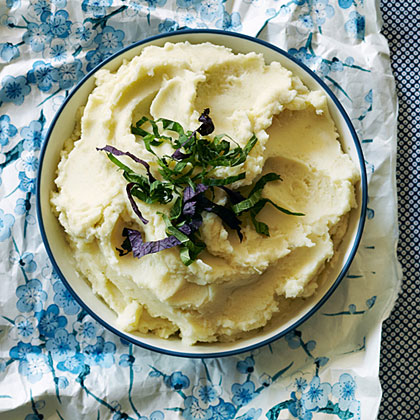 Photo: Yunhee Kim; Styling: Kevin Crafts
2 1/4 pounds large russet potatoes, peeled and cut into chunks
1 tablespoon reduced-sodium soy sauce
2 tablespoons powdered wasabi
About 1 cup whipping cream, warmed
1/4 cup thinly sliced red and/or green shiso leaves* (optional)
Step 1
1
Bring a large pot with water to boil over high heat. Add potatoes and cook until tender, about 20 minutes. Drain and return to same pot.
Step 2
2
Add remaining ingredients except shiso. Use a masher or a hand mixer to whip potatoes to a smooth consistency, adding more cream if needed. Transfer to a serving bowl and sprinkle with shiso if using.
Step 3
3
*Shiso is an aromatic herb with tender, heart-shaped, frilly-edged leaves; find it at East Asian markets.
Nutrition Facts
Servings 0
---
Amount Per Serving

Calories 143

Calories from Fat 47

% Daily Value *

Total Fat 7.5g

12

%

Saturated Fat 4.7g

24

%

Cholesterol 27mg

9

%

Sodium 135mg

6

%

Total Carbohydrate 17g

6

%

Dietary Fiber 1.2g

5

%

Protein 2.5g

5

%
---
* Percent Daily Values are based on a 2,000 calorie diet. Your daily value may be higher or lower depending on your calorie needs.