Print Options:
Warm Soba Noodle Bowl


Yields
Serves 4


Total Time
40 mins
Time: 40 minutes. A popular Japanese winter dish, warm soba with toppings is just the thing for lunch on an overcast day. The broth is made with dashi, a staple soup base whose delicate flavor comes from dried bonito tuna flakes and seaweed.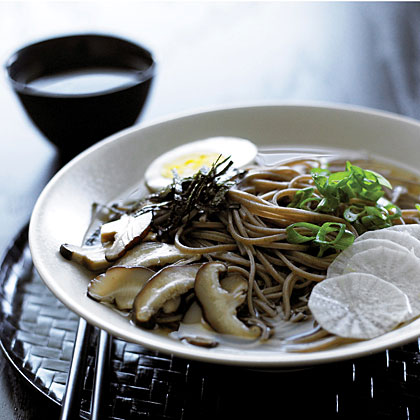 Photo: Iain Bagwell; Styling: Randy Mon
6 cups liquid dashi (or use concentrate)*
4 shiitake mushrooms, stemmed and thinly sliced
16 ounces dried soba noodles
20 thin slices daikon, peeled
1 sheet nori seaweed, cut into 1/4- by 1-in. strips
2 green onions, finely sliced diagonally
Step 1
1
Put eggs in a small pot of cold water. Bring to a boil, remove from heat, cover, and let sit 15 minutes. Drain; rinse with cold water.
Step 2
2
Bring dashi to a boil. Reduce heat to low and add mushrooms, mirin, and soy sauce.
Step 3
3
Bring a 3-qt. saucepan of water to a boil. Add soba and cook, stirring to separate noodles, until softened, about 5 minutes. Drain but don't rinse. Divide noodles among 4 serving bowls.
Step 4
4
Pour 1 1/2 cups of dashi over noodles in each bowl. Arrange mushrooms and daikon over noodles, dividing evenly so each bowl has a neat row of both. Peel eggs and cut each in half lengthwise, placing 1 half in each bowl. Divide nori and green onions among bowls.
Step 5
5
*Find liquid dashi in containers in Japanese groceries and some gourmet stores. It's more widely available as a dry concentrate called dashi-no-moto; reconstitute according to package directions.
Step 6
6
Note: Nutritional analysis is per serving.
Nutrition Facts
Servings 0
---
Amount Per Serving

Calories 436

Calories from Fat 6.9

% Daily Value *

Total Fat 3.3g

6

%

Saturated Fat 0.9g

5

%

Cholesterol 106mg

36

%

Sodium 1534mg

64

%

Total Carbohydrate 88g

30

%

Dietary Fiber 0.4g

2

%

Protein 20g

40

%
---
* Percent Daily Values are based on a 2,000 calorie diet. Your daily value may be higher or lower depending on your calorie needs.